Birds and death are so omnipresent, it's no wonder that superstition and a body of lore have grown around them. In many cultures throughout history, birds have been seen as symbols of divine inspiration – the death of a bird, on the other hand, doesn't seem to have any intrinsic positive meaning. However, you don't have to be a clairvoyant to understand the meaning of a dead pigeon you find on your porch.
This article seeks to define what a dead bird means, as well as give some interpretations of this unusual symbol.
Birds are generally known to symbolize freedom because they can walk on the earth and swim in the sea like us humans, but they also have the ability to fly into the sky. A lot of cultures believe that they symbolize eternal life and some would say that they serve as the connection between heaven and earth.
However, how do you interpret an odd sight like seeing a deceased animal? Do you see these symbols as bad omens or signs of impending doom?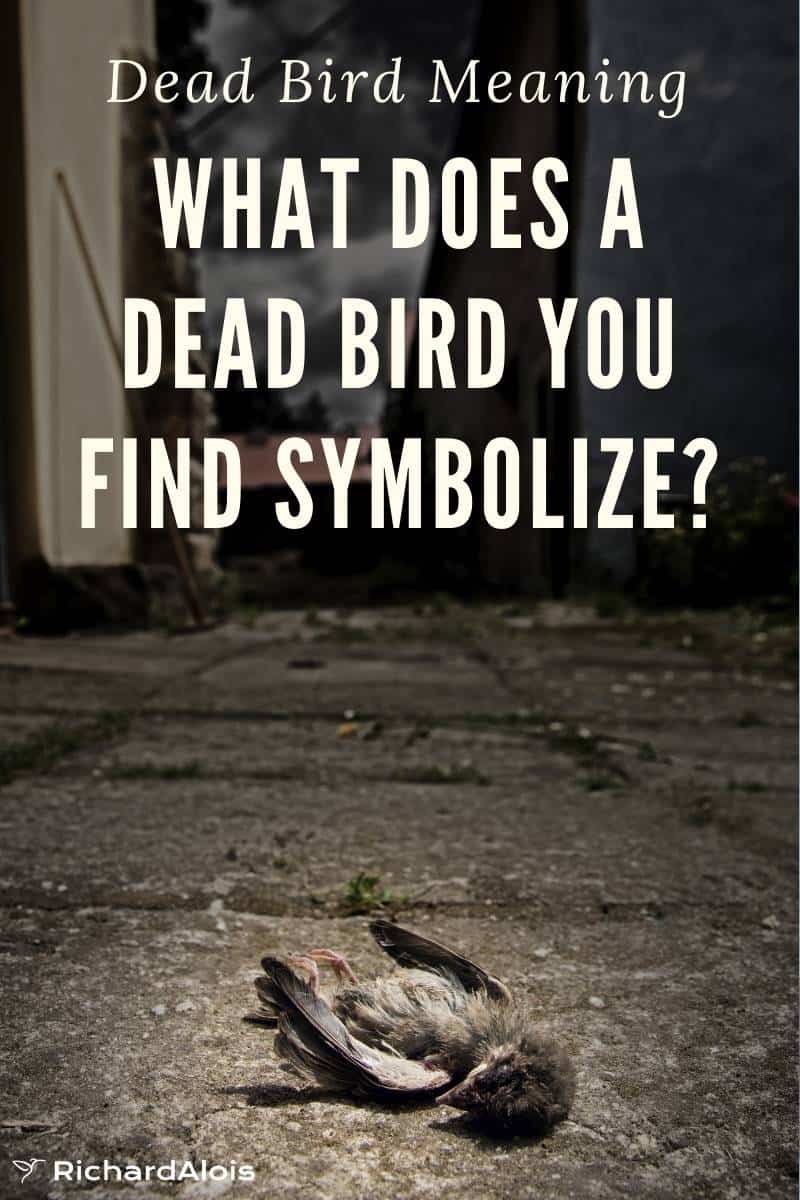 Dead Bird Meaning Or What Does A Dead Bird You Find Symbolize?
Any omen is a phenomenon that is believed to foretell the future, often signifying the advent of change. If you've seen a dead bird in the road, or perhaps accidentally hit a bird, it may feel like a bad sign. And running into a dead animal is never a pleasant experience anyway. Hence some people get nervous when they encounter a dead bird, seeing it as an omen for something negative to happen in the near future.
Others say that seeing dead birds actually is a good sign, showing you that an end to turmoil or pain is coming. A dead bird doesn't necessarily portend physical death, but metaphorical death. Perhaps you're going through the heartache of a break-up. Perhaps you are struggling to find a job. This dead bird marks the end of your search and struggle. A new beginning is just around the corner. More specifically, it symbolizes the end of something and the start of something else.
In tarot, for instance, the death card is not a bad card, in fact, the death card is the end of something that no longer serves you. It can represent a shift towards doing something new, maybe even your life's purpose. The dead card is kindly warning you that a change is taking place.
However, and similar to the death tarot card, a dead bird is a symbol or an omen of a fresh start from an end and not simply an end.
Overall and paradoxically, a dead bird symbolizes a new beginning. 
So no need to worry, this is an opportunity to reflect on the changes that are happening around you and inside yourself. So, acknowledge your emotions and prepare to release the old skin, it might even only be painful if you choose to resist. It's excess baggage for the next part of your journey.
Always think of the fine song with lyrics by Sir Paul McCartney:
"Blackbird singing in the dead of night, take these broken wings and learn to fly
All your life, you were only waiting for this moment to arise

"Blackbird singing in the dead of night, take these sunken eyes and learn to see
All your life, you were only waiting for this moment to be free"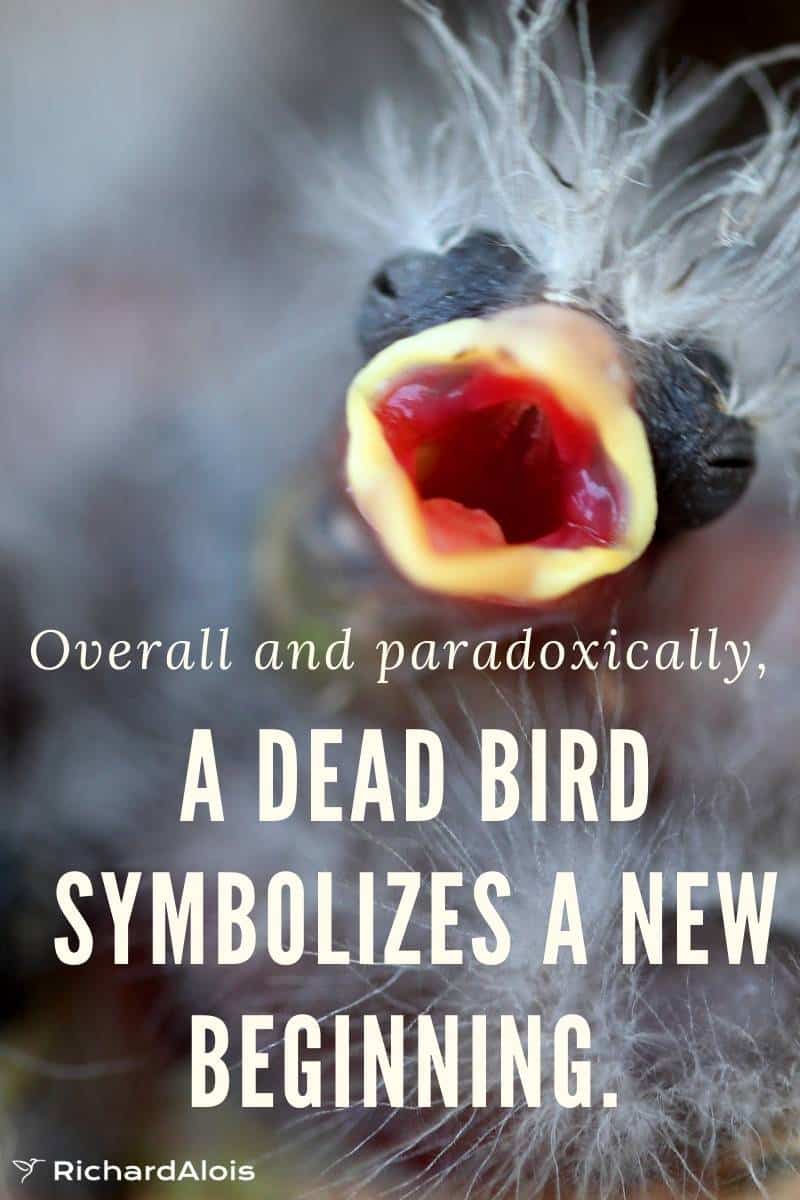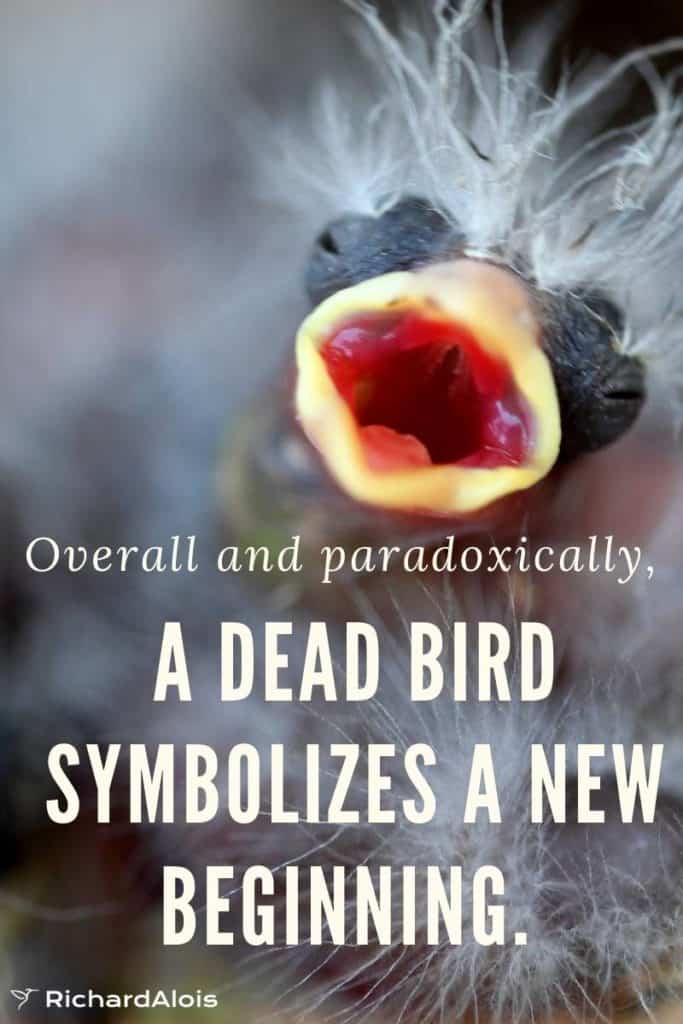 No Meaning in Finding Dead Birds at all?
It appears by your question that you are searching to find meaning for yourself in the bird's death. That is up to you. There might be no inherent meaning in the death of things. There is only the change in the spiritual nature of the thing that has died.
But looking for an omen where there is none reflects something wanting in your own spirit. So look deep into yourself and however, it is you want to hold the bird in your mind is a reflection of an unfulfilled spiritual need within your life. From that perspective, you may find meaning for yourself.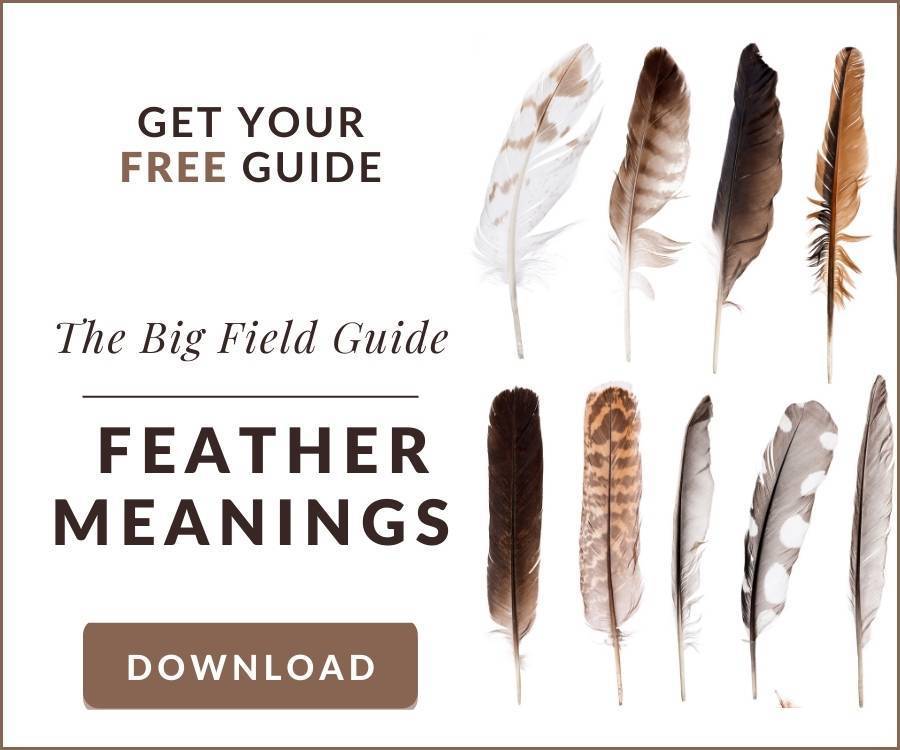 Spiritual Meaning of a Dead Bird
Traditionally and as mentioned above, the death of a bird is a sign of new beginnings, an omen of renewal. But encountering a dead bird can be an unpleasant experience and many ask themselves the question remains; is there a message in these moments?
For all creatures (incl. humans), death stands for any kind of transition. It may be the end of a cycle, the chance to leave something old and not needed anymore behind, and enter a new cycle in life. And just like with any ending, the birds' energy moves on.
In Christianity the Holy Spirit is sometimes symbolized by a bird – a dove, say the gospel writers, or a wild goose in Celtic tradition. So it might be tempting to see the lifeless creature as a metaphor for the things that go wrong in your life. However, the heart of spiritual meaning comes in understanding the reality of the world and the role of each thing in that world.
One of the first ways of approaching this situation is by noting where the creature is, anything nearby that may influence the meaning, the time of day/date, and even the weather. Spirit, Totem, & Power Animal journaling is always something we recommend. This is like a blueprint where you begin unraveling the messages from your animal spirit guides.
Next, consider if there have been changes in your life lately. Have you had a heavy question lying in your heart? What challenges you right now? Simple questions like these often clarify meaning beyond the short interpretations we are able to provide in this format. As explained earlier, the method of encounter also significantly affects the dead bird's meaning (read this post when you found a dead pigeon).
Biblical Meaning of Dead Birds
Birds play an important role in the bible. The reason why people have a special connection with birds is that we always envied their ability to rise above the ground and fly to the sky. Also, people in ancient times paid much more attention to their dreams than nowadays.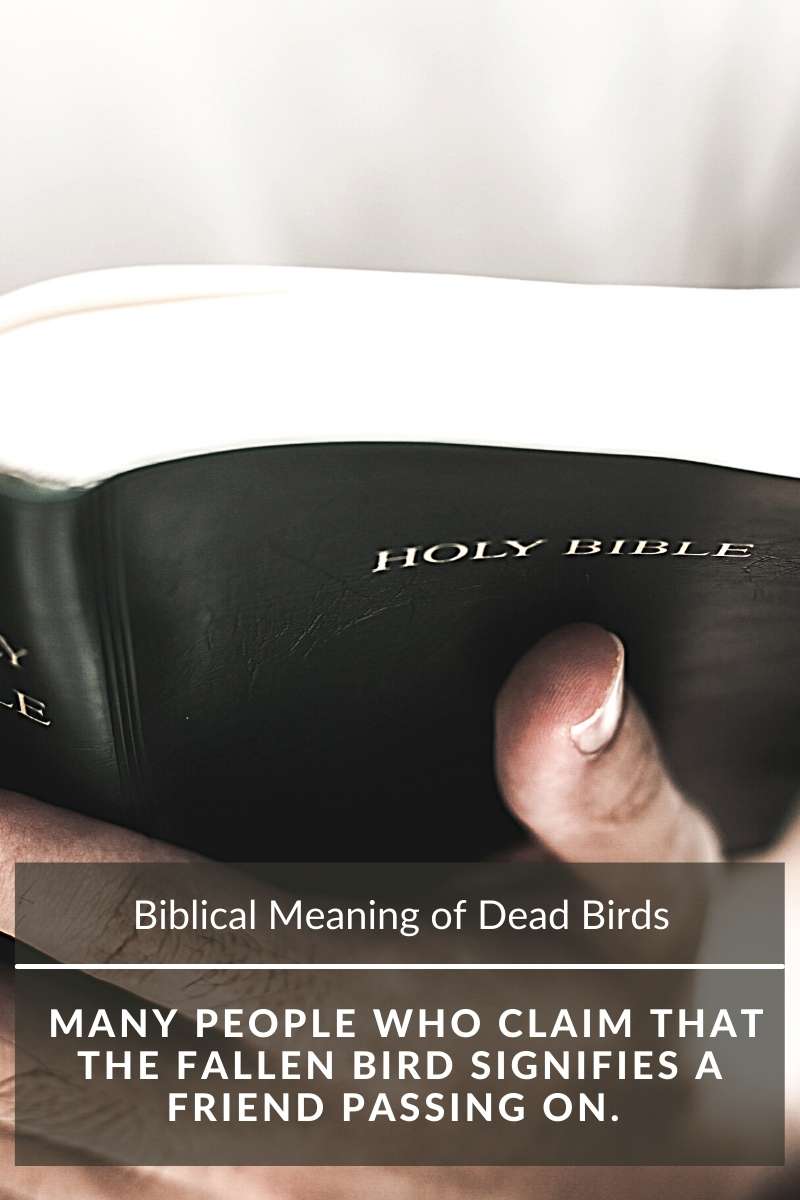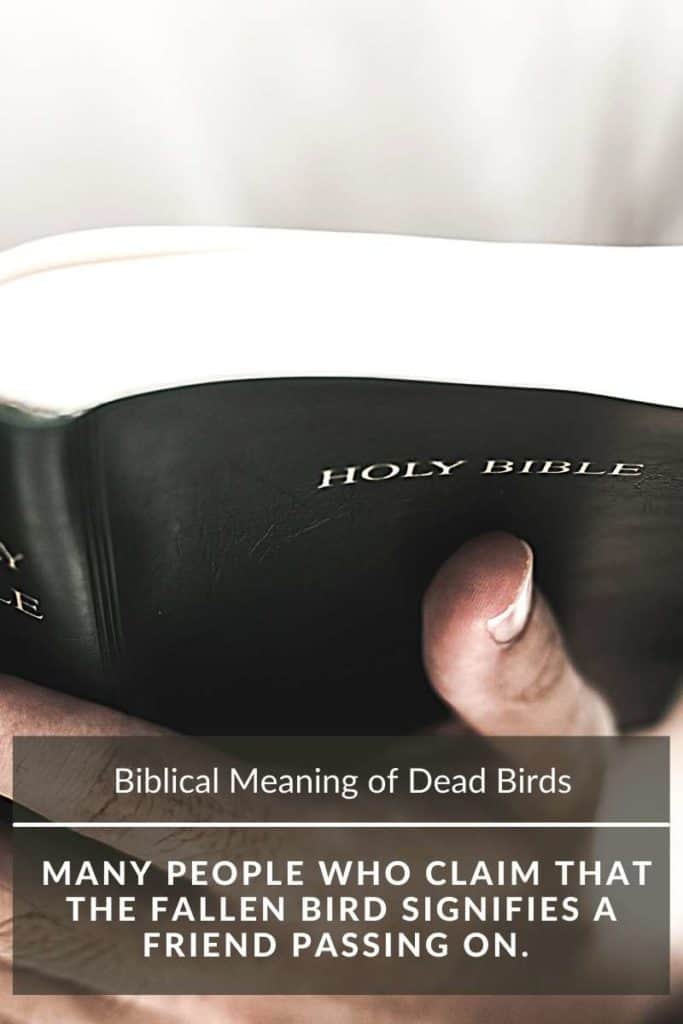 When a bird dies, it is often said that they have "gone to the angels" or "flown away." This has led many Christians to believe that dead birds are an omen of death. It's hard not to feel bad for these poor little creatures when we see them lying on the ground with their wings spread out and feathers all ruffled up. But don't worry! There isn't any truth behind this superstition.
The belief in some religions such as Buddhism and Hinduism says when you see a fallen bird on the ground, then someone who's close to you has passed away. These people think that if they find the body before other animals eat it up that the deceased will be reborn as a bird.
There is no biblical reference to dead birds being related to death in Christianity, although there are many people who claim that the fallen bird signifies a friend passing on. It has also been said by some Christians that if you find one of these creatures before other animals devour their body, then your sins will be forgiven and you'll be reborn as a new creature yourself.
However, neither of these beliefs can be verified through scripture so don't worry too much about it! There may very well still be an old superstition behind all those feathers though…we won't let you know.
Some species of birds were used as examples of certain virtues of the Christian soul and the Saints themselves. A white dove, in the Bible, symbolizes the Holy Spirit. White doves often appear in stories in the Bible and their presence is always followed by something positive and their presence represents a blessing from God.
Read more about the biblical meaning of dead birds. In case you're also interested in other biblical interpretations of birds, feel free to read about the biblical meaning of seeing a Blue Jay or the Red Cardinal Biblical meaning.
The Meaning of Dead Birds in Different Cultures
Across the world, there are many different cultures that assign meanings and the interpretation of a dead bird can vary wildly.
In Native American Culture – a dead bird is seen as a sign of peace and hope. It symbolizes death and rebirth because they are often killed by predators such as owls, hawks, cats, etc., so when one dies its body will decompose until all that remains is its skeleton from which new life springs forth with flowers and grasses growing around; this shows how there's always light after darkness.
It also implies change: while a living creature might be healthy but just unlucky at being caught by a predator, once it has died the circle of life continues to turn.
In Christian culture – Christians are said to have believed that if they saw one on their path, it could mean bad luck and imminent disaster were coming.
In ancient Greek culture – dead birds were seen as symbols of death and rebirth. A dead bird symbolizes the end of one life cycle and is a sign that something new has begun. Oftentimes people would bury or dispose of these birds in order to honor them as symbols of change.
In Asian cultures – a dead bird gives the same message as it would in Western cultures, but there is an additional element to consider. In China and Japan, people often associate birds with their ancestors.
If you see one near your house or on a nearby property that's not normally inhabited by them, this could be considered bad luck because they're usually only found where someone has died. The symbolism of death can also be related back to karma: if you've done something wrong in life and are now paying for it in some way (even if just losing sight of what matters) then seeing a dead bird might mean that your time has come.
"When a BIRD is alive, it eats ants…when the bird is dead, ants eat the bird! Time and circumstances can change at any time…Lets not devalue or hurt anyone in Life…We may be powerful today…But remember, TIME is more powerful, one tree makes a million match sticks.. But when time comes….only one match stick is needed to burn a million trees…lets be good and do good earthlings."

– Unknown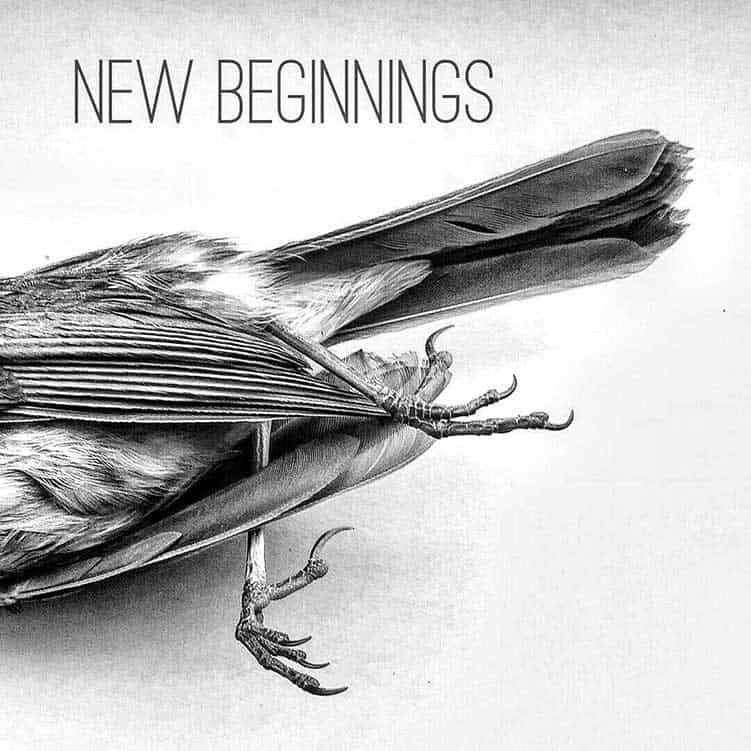 Known Superstitions About Dead Birds
According to Wikipedia "A superstition is a belief or practice typically resulting from ignorance, a misunderstanding of science or causality, a belief in fate or magic, perceived supernatural influence, or fear of that which is unknown."
Hence I would not trust the following beliefs I found:
If you see a single dead bird, it can be seen as an omen of impending doom or bad luck for your loved ones.
Some cultures believe that if you find one dead bird, then someone in your life will die soon and will shorten your lifespan by seven years.
If a dead bird is found in the water it can be seen as an omen for the death of either yourself or one of those close to you.
Other people believe that if you see a bird and then it dies, the death of the bird is foreshadowing your own.
Some people when finding a dead bird on their porch believe voodoo is involved. We talked about it in our post, check it out.
What To Do If You Find A Dead Bird
Birds can die in many ways, a common one with human intervention is when birds hit windows. If you find a dead bird in your yard for instance and you decide to try to handle it — remember to do it safely. Don't touch it with your bare hands; wear gloves or a shovel to pick it up; double-bag the dead bird carcass; and wash your hands with soap and warm water immediately after handling the bird.
Just be careful that the dead bird you found might have died from the West Nile virus. (West Nile virus is transmitted to birds through the bite of infected mosquitoes. Mosquitoes become infected by biting infected birds. Some birds that are predators (such as hawks and owls) or scavengers (such as crows) may become infected after eating sick or dead birds that were already infected with the West Nile virus).
Read here, in case you found a dead baby bird and don't know what to do.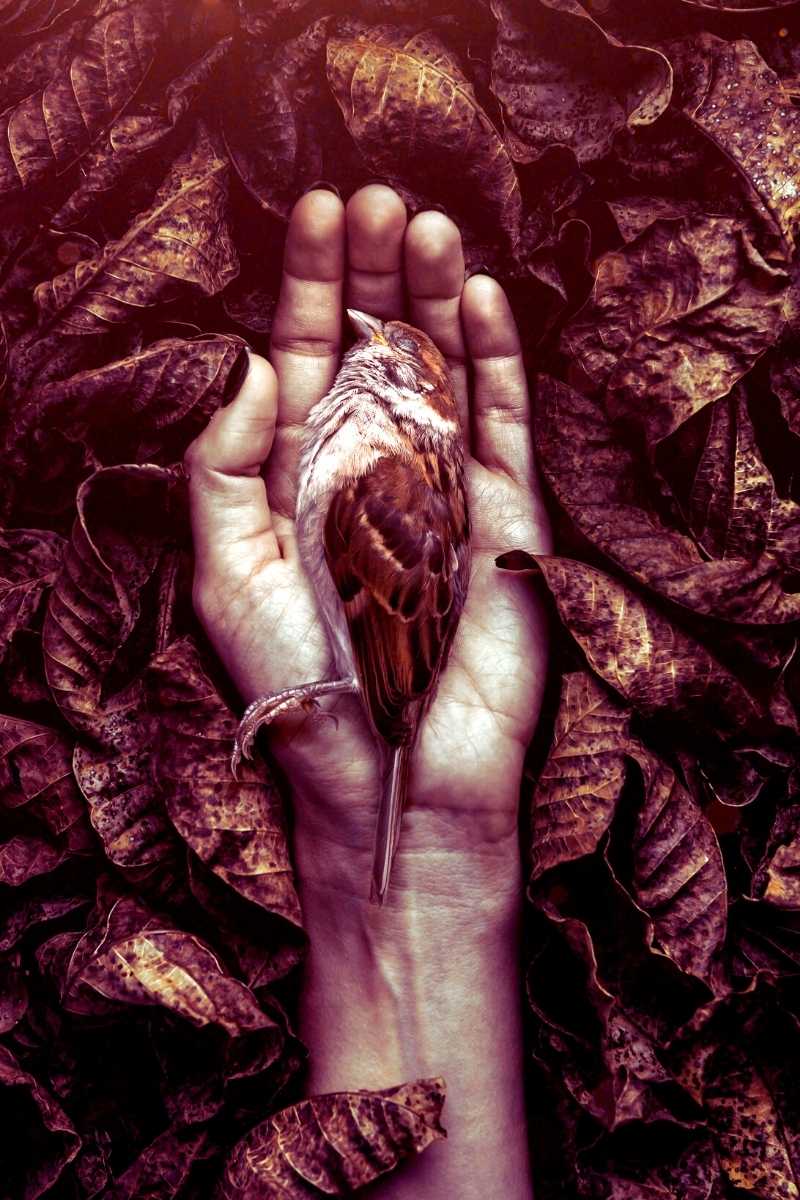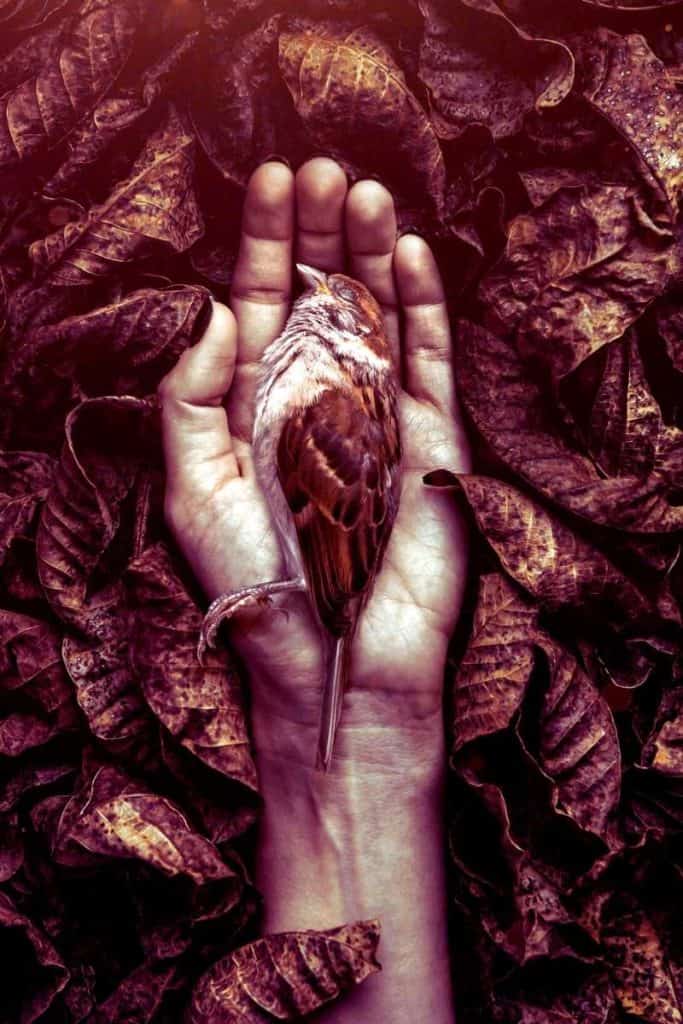 Omen or Pareidolia
If you look at the symbolism of dead birds a great word for evaluating the situation is pareidolia, "the imagined perception of a pattern or meaning where it does not actually exist. The term usually applies to sensory phenomena, but also describes the desire to find meaning between events where no causal link exists.." The desire to find meaning in sad or unsatisfying circumstances is a natural human impulse.
I hope that pareidolia will make you think if finding a dead bird has some intrinsic meaning/is an omen for things to come or if it was just a natural or accidental event. On the image, you see the so-called "Face on Mars": an example of pareidolia based on a 1976 photograph of an area of Martian topography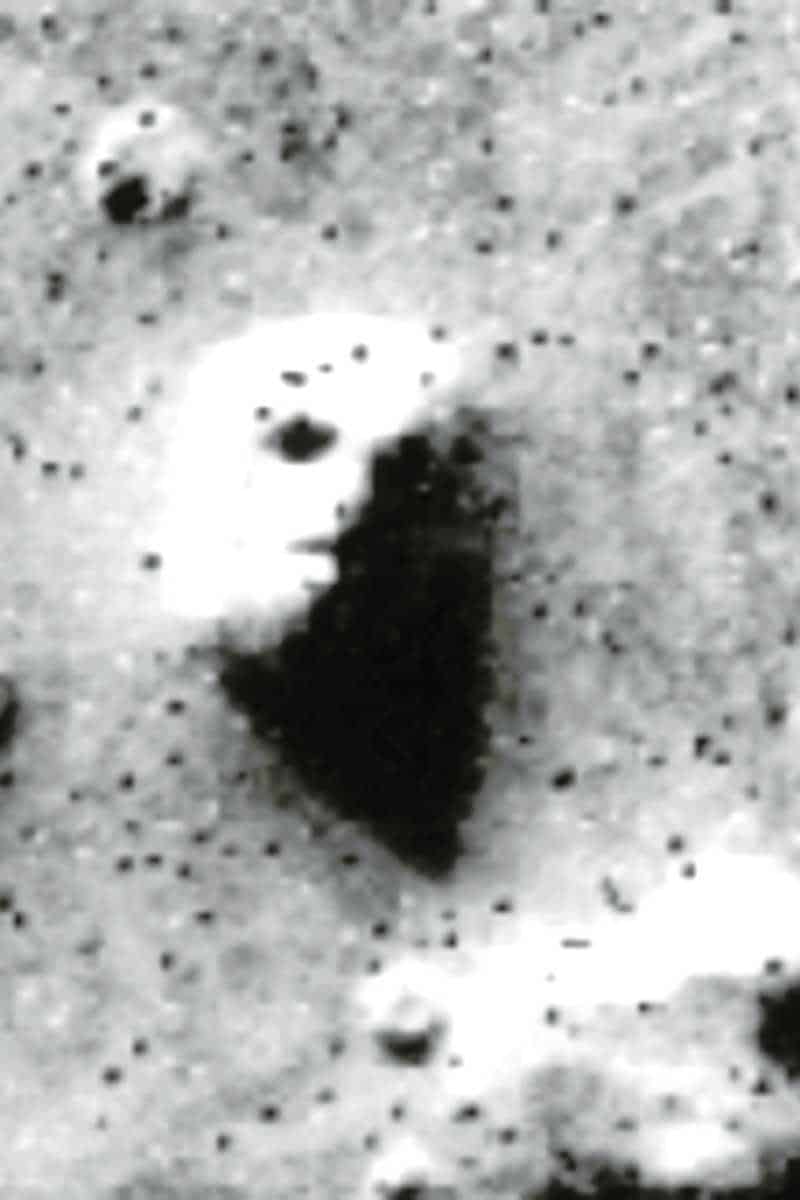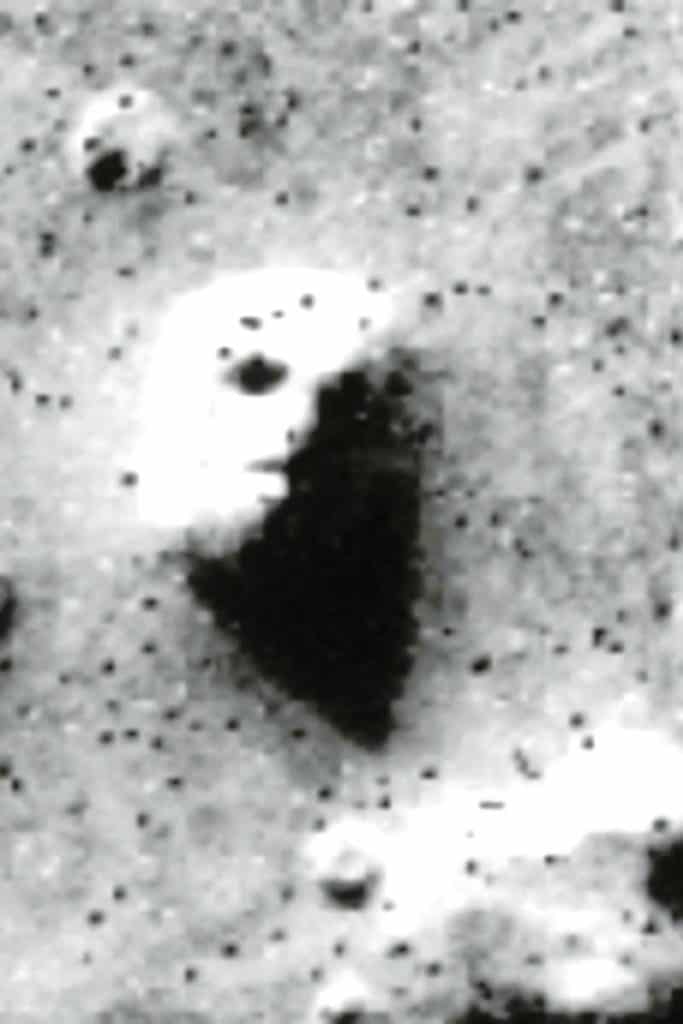 Dead Bird in a Dream
The art of dreaming of birds is not as new as people have been dreaming about weird things. However, a dead bird in a dream is in another class. What exactly does it mean?
An omen, in most cases, foretells the future and signifies an advent of change. In a nutshell, you do not have to lose your focus or rather have sleepless nights as you look for an omen associated with a dead bird in a dream. Instead, be positive and look more rooted in your life, and try to identify the things that seem dead in your spiritual life. In most cases, the imagined perception of a bad omen being linked with such a dream does not exist.
Thus, admit you might be going through some struggles in life, and death, in this case, symbolizes the end of this era. I hope that this paradoxical meaning of the dream will find you thinking of some intrinsic meaning in your life rather than looking for bad omens associated with it. In other words, be positive and find a way of boosting your spiritual life instead of expecting a bad omen in the future. Check here for more information about dream interpretation.
Dead Crow Meaning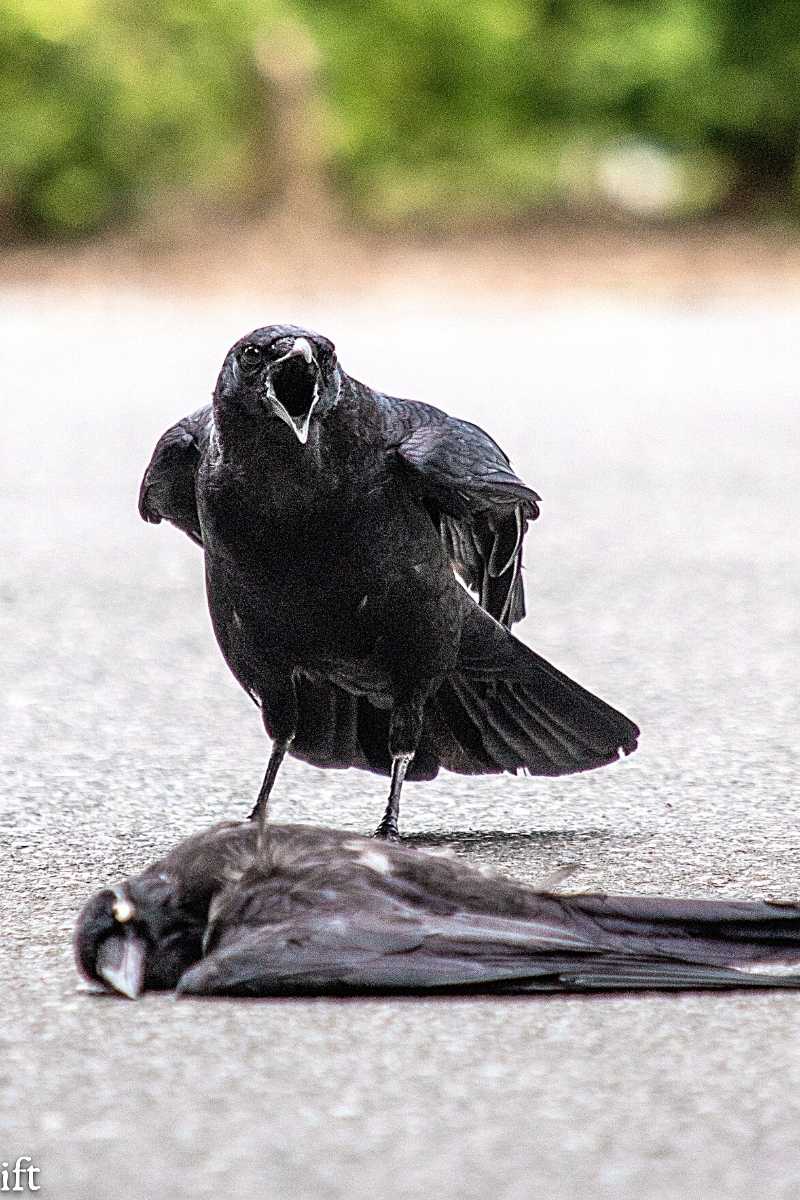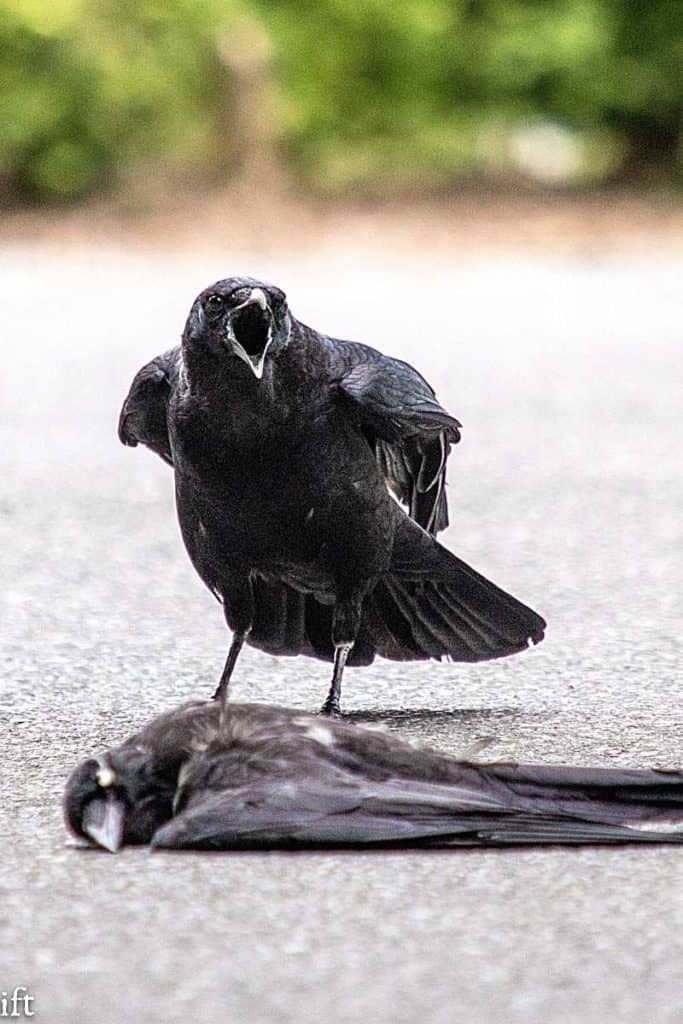 Crows are commonly associated with death and misfortune – a black-colored bird that portends doom. However, this is when alive. The dead crow meaning is thought to suggest the opposite, potentially bringing good news and positive change to those who see it. Though different people and belief systems hold many varying ideas, it is the crow's connection to transformation and change – of a good or bad kind – which seems to remain a common theme.
Crows are considered to be the messenger between the world of the dead and the living, their presence acting as a warning. They are also thought of as guides of souls to the afterlife. This existence between the two worlds gives them superior knowledge, explaining the respect we have for these particular birds. Read more about the dead crow meaning here.
Dead Dove
The spiritual meaning of a dead dove is often seen as an omen to be cautious. It can denote danger and harm for oneself or someone you know, whether through failure in business ventures, illness within one's family tree (medical practitioners will use this sign), defeat at sporting events where they bet heavily on that game because it paid off with losses elsewhere during playtime–the potential includes every hardship life has ever thrown our way! Read more about the dead dove meaning here.
Dead Owl
The dead owl symbolism is most often associated with death and the spiritual realm. It can also refer to a past life or an old soul that has returned in search of knowledge or wisdom, such as when we reincarnate. A dead owl is a bird that some people believe to be the spirit of wisdom. It has been compared with an omen, and can symbolize messages from otherworldly realms or just nature's cycle in general for those who see it as such on its surface level meanings; however, there are many different cultural references behind these associations depending upon which culture you belong to. Read more about the dead owl meaning here.
Dead Sparrow
The dead sparrow is a symbol of change and the cycle of life, reminding us that even in our efforts to control everything around us there will be things fate cannot predict or plan. They often nest close by humans because they represent humanity's connection with nature itself, as well as all of our struggles, fears, and hopes. These birds serve to remind us that the world will continue on without us no matter what we do or how much we wish it would stop for a minute so we might catch up; thus we must find strength within ourselves before anything else around us can be truly used in this way! Read more about the dead sparrow meaning here.
Dead Pigeon
Pigeons are messengers of peace. They represent inner harmony and happy home life that is void of strife, anger, or violence- a perfect representation for those who find themselves consumed by negativity which has led them down the wrong path to destruction with no end in sight (and also preventing any future problems). If you see one dead pigeon on your journey then it means someone close will die soon; their self-destruction leads others towards hope instead! This collision between the bird's body signifies an important lesson: we must learn how not only to save ourselves but prevent further tragedies among those around us as well if they're impacted by our actions whether directly related or otherwise. Read more about the dead pigeon meaning here.
Dead Hummingbird
Hummingbirds are known for their beauty and speed, and they are often associated with joy and happiness. However, hummingbirds can also symbolize death. If you see a hummingbird near or after someone has passed away, it may be interpreted as a sign from the deceased that they are okay. Hummingbirds can also appear in dreams to those who are grieving or mourning, offering comfort and hope for the future. Read more here: hummingbird symbolism death.
Conclusion
The meaning of a dead bird can vary depending on the culture. In some cultures, it is seen as an omen to death or bad luck and in other cultures, it may symbolize peace or freedom from captivity; but regardless of what you believe about the symbolism behind this animal carcass, we hope that our last point will help you find your own interpretation for life's little mysteries like these.
[Video] Explanation of the Omen of a Dead Bird
FAQ
What does a dead bird mean?
Spiritually, a dead bird is assumed to symbolize something negative. However, it is a sign of renewal and change. Different traditions are of the belief that the bird type that you come across and its location depicts its meaning. It provides clues of the things that you need to let go of. Only then can you pave the way to have a new and much better beginning. Getting to know the meanings will help you to derive a personal interpretation.
What does it mean when you see a dead bird?
According to some beliefs coming across a dead bird means your life is at its fag end. Resisting will only make death more painful. You are rather provided with an opportunity to recognize the changes taking place within you and your surroundings. Hence, it is necessary to acknowledge your emotions, while preparing to let go of the old skin. Some traditions consider that if you see a dead bird, then it may foretell death. However, different birds symbolize different meanings.
What does it mean when you find a dead bird on your porch?
It could be that you find a dead bird on your porch. Traditionally, the bird's death symbolizes signs of changes and new beginnings. Rather, it can be depicted to be an omen that something is going to change in your life. You will derive a new renewal. The symbolic meaning of a dead bird on your porch is likely to vary based on the bird's breed. Also is taken into consideration the day, time, weather, and location. Do remember to dispose of the dead bird safely.
What do you do if you find a dead bird?
• Do not use bare hands to touch the dead bird. Make sure your clothing does not touch the dead bird, its feces secretions, or blood.
• Use multiple heavy-duty plastic bags or gloves to pick it up.
• Put it inside the bag with both your hand and turn the bag inside-out to ensure the bird is within the bag. Claws or beaks should not puncture the bag.
• Seal it tightly.
• Dispose of it by keeping it in a secured trash container.
Is seeing a dead bird good luck?
Different cultures interpret different meanings for dead birds that are noticed. In Asia, some cultures consider it to be an immortality symbol. Indian mythology states that birds carry departed souls from this world. The bird according to Christianity brings peace. Hence, most interpreters are of the belief that on coming across a dead bird, someone beloved must have passed away. There are many who also believe that seeing the dead bird offers good fortune. It can also be the end of some troublesome or painful predicament.
What happens if you touch a dead bird?
Dead birds carry lots of harmful viruses, fungi, and bacteria. So touching them with bare hands will mean, you will only contract those pathogens. If you happen to touch it, then make sure to dispose of it properly and then wash your hands properly and thoroughly. Avoid bringing the dead bird home. Also, do not touch your face, smoke, drink, or eat with your hands. This way, you can make sure that your hands become virus and germ-free after touching the dead bird.
Is finding a dead bird a bad omen?
Birds are symbolically seen as divine inspiration. On the other hand, its death is not associated with intrinsic positive meaning. Some cultures state that seeing a dead bird can be a good sign. It may mean that some pain or turmoil that you are currently facing is sure to end soon. The dead bird may mean metaphorical death and not portend physical death. Maybe you are suffering from a break-up or not able to get a job. Seeing the dead bird may mean ending your struggle and search.
What is the meaning of dead birds in dreams?
Dreaming of a dead bird may mean an omen. It might foretell your figure, signifying some unexpected changes taking place in your life. But this does not mean that you need to experience sleepless nights or lose focus to understand the dream. Be more rooted and positive in life. Identify those things which might appear to be dead in spiritual life. The dead bird in your dream symbolizes the end of an era. You can look for ways to boost your spiritual life and be positive.
Dead bird curse: fact or fiction?
There is no evidence that a dead bird curse actually exists, but it's been around for centuries. Birds are believed to carry messages of death with them and harming one could bring bad luck or even kill someone in your family! Some people believe the superstition has some truth to it because there have been cases where when somebody harmed a bird they would soon after die themselves. These instances don't happen often enough though to say this is true of all birds everywhere.
Bestseller No. 1
Bestseller No. 2
Bestseller No. 3