You may perhaps love bird watching, but not getting enough of it. If you have a garden, then you can take steps to attract wild birds in huge numbers. Blue Jays are really interesting to watch and they are also known for their melodious, sweet song. Blue Jays' attractive blue hues do offer some tranquillity and peace of mind within you. Sometimes Blue Jays also have significant meaning from a Biblical perspective.
However, attracting these birds is not that easy as imagined. This can be all the more challenging if there are a few Blue Jays present in your area. But by creating a wonderful spot for these beautiful birds is sure to attract them to visit your garden. But the question is how to achieve this feat! You can install a top-quality Blue Jay Feeder in your garden. You can come across the best feeders developed exclusively for Blue Jays at reputed portals like Amazon. You just need to thorough research, get to know the details and specifications, and make the choice.
To get into the swing, let's watch some live birds feeding in Ohio, US.
1) Woodlink Going Green Platform Bird Feeder
This bird feeder is an open styled one and allows the birds to easily peck on seeds kept in it. This open design also permits you to enjoy the beautiful view. It is also attractive to look at and has beautiful aesthetics. This feeder has plenty of space to add plenty of bird seeds. It means you do not have to refill seeds repeatedly. Recycled plastic has gone into its creation. It is also an eco-friendly and ideal bird feeder to invest in. Created by Woodlink, this open design feeder is quite affordable. But seeds may get spoiled during snowy or rainy days, because of its open style. To protect the seeds, you can include a DIY roof.
Salient features:
Attractive design

Metal screen bottom allowing drainage

Can be installed quickly and easily.

Made entirely in the USA.

Reliable and trendy looking
What is not preferred:
Less durable unlike other feeders
Specifications:
Seed type determines its holding capacity.

It measures around 12.63" x 12.75" x 2.13"

Available in exciting green color

Sturdy construction screwed together

Feeder constructed from 90% post-consumer recycled plastic
2) Birds Choice Whole Peanut Blue Jay Feeder
It is a beautiful looking bird feeder having a green roof. Its appealing aesthetics are sure to attract Blue Jays effortlessly. Recycled plastic and perforated feeding hole ports are used in its construction. It also comes with a removable screen-base which enables easy cleaning of the feeder. Being constructed from superior quality material, it is durable and sturdy. Its roof protects the seeds from getting spoiled from rain or snow. The installation of this feeder is also quite easy. Wire requires some additional support to ensure it does not fall. This bird feeder when installed is sure to attract Blue Jays in huge numbers to your backyard. Its design and built is sure to make feeding fun-filled and exciting.
Salient features:
Easy to install and clean

Constructed to include whole peanuts

An ideal feeder constructed exclusively for Blue Jays

Is attached with a removable screen base

Made from superior quality plastic material

Provide with bird-friendly design allowing birds to get eat the peanuts without hassle

Can hold approximately shelled peanuts of around 2-1/4 quarts

Made entirely in the U.S.A.
What is not preferred:
Requires additional support to prevent falling down and is of heavy-weight.

Serves only big seeds and nuts.
Specifications:
Can accommodate easily 1 ½ lb. of peanuts
Measures about 7" x 10" x 15"
Weighs about 4 pounds
Available in green and brown color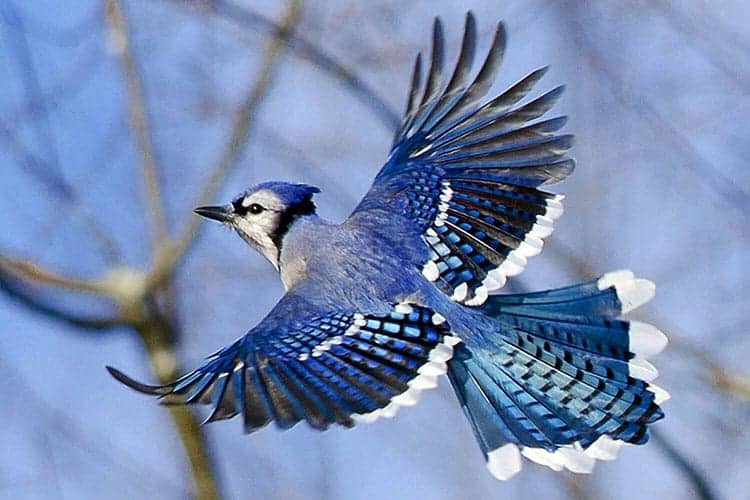 3) Gray Bunny Hanging Bird Feeder Tray
If you seek a superior quality bird feeder constructed with a classy design, then this is the one to buy. It is durable and built to last much longer. There is also present a rust-proof, heavy-duty mesh. This feeder has been constructed to withstand all types of extreme weather conditions. Thus, it can protect the seeds as well as the feeder. It does enjoy greater stability with its double looped hanging chains. From the hanging chains is attached the golden clips with sparkling color to attract the birds towards it. The brackets also are quite stylish, adding brilliance and elegance to your yard or garden. This feeder is very much easy to be maintained and cleaned. You just need to turn down the tray and simply rinse the mess off. This is a wonderful option for those who seek a feeder requiring minimum maintenance.
Salient features:
Elegant looking with decorative golden flair brackets

Heavy-duty steel mesh used in its construction, with rust-resistant black powder coating to ensure optimum all-weather durability.

The double-loop hanging chain is sturdy and designed not to break easily.

Can be installed easily and cleaned without having to put much effort or spending time.

Comes with thirty days money-back assurance

Can be cleaned and washed easily

Comes with a money-back guarantee
What is not preferred:
Less serving options are offered with this feeder

Ideal to serve only sunflower seeds and peanuts
Specifications:
It can easily accommodate a dish of size 9.25". Fill the feeder depending on seed size.

Extremely durable and long-lasting.

Measures about 9.25" x 9.25" x 1.75"
4) Songbird Essentials Whole Peanut Wreath Feeder
This Blue Jay feeder is considered to be durable, reliable and sturdy in its construction. It is also attractive enough to compel Blue Jays to come in huge numbers. Its unique shape is what makes it all the more beautiful. It is designed using twisted metal wires to offer the birds with a solid foothold. You can also keep peanuts inside the feeder with the help of the twisted wires. It is possible to keep the bird food fresh all the time since there is promoted better air circulation. The design of the feeder allows it to withstand even harsh weather conditions. The feed also does not get spoilt by snow or rain. It has been provided with vibrant red color, thus allowing the Blue Jays to spot it easily even from a distance. Maintaining and cleaning this feeder is also easy. The feeder's large size allows it to hold more quantities of peanuts. It also means you do not have to worry about refilling the feeder every now and then.
Salient features:
Can be installed and cleaned without much effort.
Provides secure feeding space
Is an ideal feeder created exclusively for Blue Jays
Superior quality product
Comes with a wreath design
Available in attractive red color
Made entirely in the United States
Great trendy look. Appears like a wreath.
Is constructed to hold birds weight easily
Can accommodate good quantity of peanuts
What is not preferred:
This feeder can attract only the Blue Jays.
Some may find it difficult to refill the feeder
Specifications:
It can accommodate bird feed of around 3.4 lbs.
It offers sturdiness, built to last long, reliable and safe
Measures approximately 13" x 13" x 2.75"
Weighs approximately 1.1 pounds
5) Woodlink Going Green Large Premier Bird Feeder
This feeder is built to be sturdy and strong. It is developed by Woodlink, a reputed company. 90% of recycled plastic is used in its construction, thus being termed an eco-friendly product. Its robust design also enhances its longevity. The superior quality materials ensure that it is durable and strong. The meshed bottom offers a good amount of drainage to protect the feed from rainwater. There are constructed two suet cages in the feeder, thus allowing you to have a better view of the birds. This means you can view the bird from any angle you desire. It is provided with spacious dimensions, good enough to serve more seeds when compared to other popular options. Its roof also does not allow the feed to be spoilt due to snow or rain.
Salient features:
Sturdy design

Roof present on the feeder helps protect the feed from getting spoilt

Is designed to hold easily 2 suet cakes

Constructed using 90% recycled materials and plastic

Is designed to attract Blue Jays and other types of birds
What is not preferred:
There is included a pole without any cap.
Specifications:
It can easily fit 5 ½ seeds and 2 suet cakes.

It measures around 13.5" x 11.5" x 10.5"
Conclusion
Choosing the right feeder will enable Blue Jays to visit your yard/ garden. It will also allow you to know more about them. Also a good feeder will not require much maintenance or refilling of bird feed.
PS: Check out this post, if you've found a blue jay feather or check out our comparison of Bluebird Vs Blue Jay.