Have you ever wondered why the proud Eagle symbolizes America, or the mystical Dragon represents China? Each national animal tells a captivating story, embodying the spirit and culture of its nation.
In this exploration, we unveil how these symbolic creatures define national identity, offering a riveting journey through history, values, and fascinating animal trivia.
Prepare to embark on a voyage that will redefine how you perceive national animals and cultural identity.
Why Countries Choose National Animals
Countries meticulously choose their national animals as they embody the spirit, resilience, and unique attributes of the nation. Often, these creatures are deeply intertwined with the country's history, folklore, or natural landscape.
For instance, the Bald Eagle, the national animal of the United States, symbolizes freedom and strength, key attributes of the nation. On the other hand, India's national animal, the Bengal Tiger, represents power, agility, and grace, mirroring the country's rich cultural heritage and diversity.
Just as each nation has its own distinct culture and identity, the choice of a national animal symbolizes their unique essence, their cultural identity. The examination of these symbols, therefore, offers a captivating glimpse into a nation's soul.
The exploration of these national animals is a journey through a country's history, values, and aspirations, unraveling the threads of cultural symbolism along the way.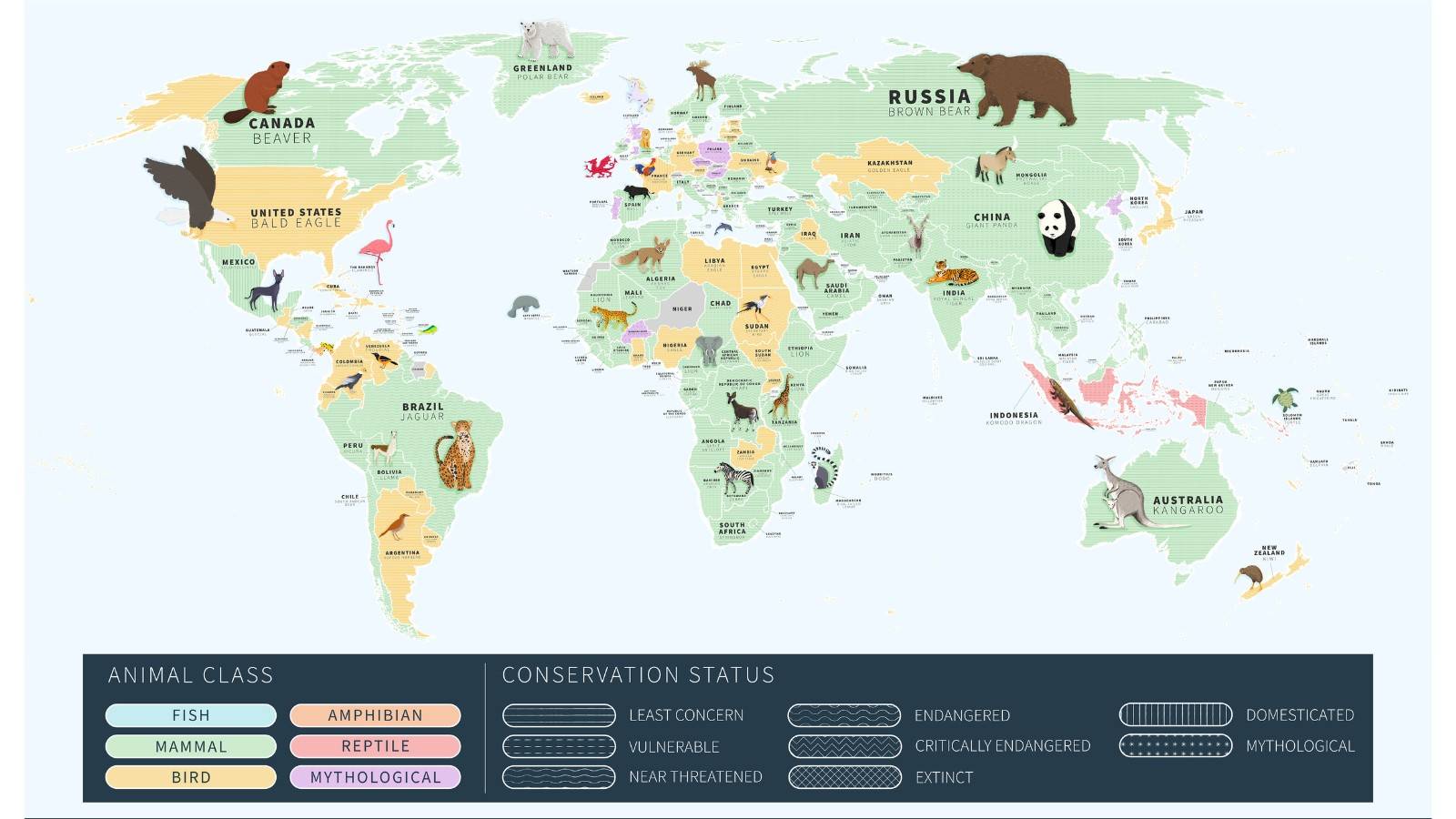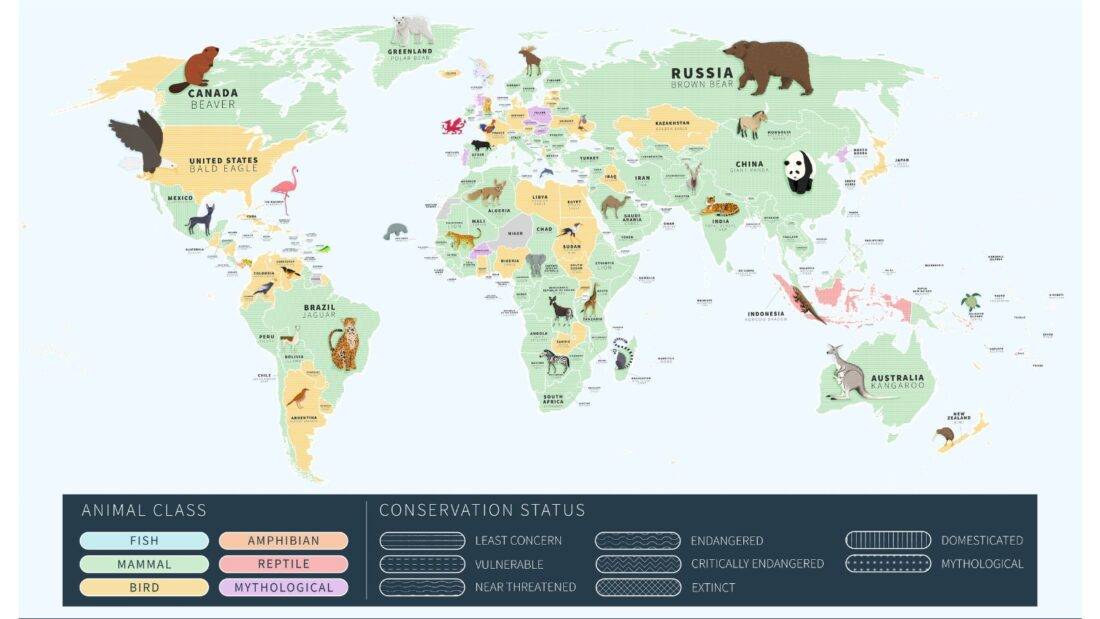 The Role of National Animals in Culture and Identity
A Tale Told Through Symbols
When we speak of national animals, we're not just talking about fauna. Instead, we're unraveling stories, peering into legends, and understanding values deeply ingrained within a nation's psyche. Each creature, whether it soars in the sky like the American Bald Eagle, symbolizing freedom, or is a mythical wonder like the Chinese Dragon, standing for wisdom and good fortune, carries a unique tale.
These tales, transcending generations, are more than bedtime stories – they're an integral part of the nation's identity, a source of national pride, and an emblem of unity.
The Global Stage: National Animals as Cultural Ambassadors
On the world stage, national animals are like cultural ambassadors, proudly waving their flags. Who doesn't associate the cuddly Koala with the sun-kissed landscapes of Australia? Or marvel at the Indian Peacock's iridescent plume, a vibrant spectacle as diverse as the Indian culture itself? Each animal, in its own delightful way, opens a window into the soul of its homeland.
So, when we delve into the world of national animals, we're embarking on a journey that's about more than wildlife. It's a voyage through history, a walk-through diverse culture, and a testament to the unique identity of nations. It's a fascinating tale of the bond between humans, animals, and the land they call home.
Long list of national animals and their symbolic meanings
| | | |
| --- | --- | --- |
| Country | National Animal | National Idendity |
| Afghanistan | Leopard | The national animal of Afghanistan is the snow leopard. It is chosen as a symbol due to its significance in the country's culture and environment. The snow leopard represents strength, resilience, and adaptability, qualities that resonate with the Afghan people. Additionally, the snow leopard is native to the mountainous regions of Afghanistan, making it a fitting choice to represent the country's rugged landscape. |
| Albania | Eagle | The golden eagle is chosen as Albania's national symbol due to its strength, freedom, and bravery. It represents the country's rich history, independence, and resilience. The golden eagle is native to Albania's mountains and is admired for its majestic appearance, making it a fitting choice for the country's national animal. |
| Algeria | Fox | The animal chosen as the national symbol in Algeria is the Fennec Fox. It represents resilience, adaptability, and resourcefulness, traits that are highly valued in Algerian culture. The Fennec Fox is native to the country's desert regions and is known for its ability to survive in harsh environments, making it a fitting representation of the Algerian spirit. |
| Angola | Black-crested antshrike | The animal chosen as Angola's national symbol is the giant sable antelope. It represents strength, resilience, and the country's commitment to conservation. This particular animal was chosen because it is native to Angola, making it a unique and significant representation of the country's natural heritage. |
| Argentina | Rufous hornero | The animal chosen as the national symbol in Argentina is the jaguar. It represents strength, power, and resilience. The jaguar is native to Argentina and is seen as a symbol of the country's rich biodiversity and natural heritage. Its selection reflects Argentina's commitment to conservation and the protection of its unique wildlife. |
| Armenia | Wolf | The animal chosen as the national symbol in Armenia is the eagle. Symbolically, the eagle represents strength, power, and freedom. Armenia has chosen this particular animal because it embodies the country's resilience and determination to overcome challenges throughout its history. |
| Australia | Kangaroo | Australia has chosen the kangaroo as its national symbol due to its unique characteristics and representation of the country's identity. The kangaroo symbolizes resilience, adaptability, and strength, traits that Australians admire. Additionally, kangaroos are native to Australia and are found nowhere else, making them a fitting choice for the country's national animal. |
| Austria | Eagle | Austria has chosen the golden eagle as its national animal symbol. The golden eagle represents strength, power, and freedom. It is chosen because it is native to the country's alpine regions and embodies the country's majestic landscapes. Additionally, the golden eagle is a symbol of Austrian pride and resilience. |
| Azerbaijan | Horse | The animal chosen as the national symbol in Azerbaijan is the Karabakh horse. It represents the country's rich equestrian heritage, strength, and resilience. This particular animal was chosen because of its historical significance and its importance in Azerbaijani culture, as well as its role in the country's economy and tourism industry. |
| Bahamas | Flamingo | The Bahamas has chosen the flamingo as its national bird due to its vibrant pink color, which represents the country's tropical beauty. The flamingo also symbolizes grace, elegance, and resilience, traits that align with the Bahamian culture. Additionally, the flamingo is native to the Bahamas and can be found in abundance throughout the islands. |
| Bahrain | Oryx | The national animal of Bahrain is the Arabian horse. It is chosen as a symbol due to its historical significance and cultural importance in the country. The Arabian horse represents grace, beauty, and strength, reflecting the values and heritage of Bahrain. Additionally, horses have played a crucial role in the country's history, particularly in traditional sports and as a means of transportation. |
| Bangladesh | Tiger | The Bengal Tiger is chosen as the national animal of Bangladesh due to its significance in the country's culture and history. Symbolically, it represents strength, courage, and resilience. The tiger is also native to the Sundarbans, a mangrove forest shared by Bangladesh and India, making it a fitting choice to represent the country's natural heritage. |
| Barbados | Pelican | The national animal of Barbados is the green monkey. It is chosen as a symbol because it represents the island's rich biodiversity and natural beauty. The green monkey is also known for its agility and playfulness, reflecting the vibrant and lively spirit of the Barbadian people. |
| Belarus | Bison | The bison is chosen as the national animal symbol of Belarus. It represents strength, resilience, and the country's commitment to conservation. The bison was selected due to its historical significance in Belarusian culture and its symbolic representation of the nation's determination to protect its natural heritage. |
| Belgium | Lion | Belgium has chosen the lion as its national animal symbol. The lion represents strength, courage, and nobility, which are qualities associated with the Belgian people. Additionally, the lion has historical significance in Belgium, as it has been featured in the country's coat of arms since the Middle Ages. |
| Belize | Tapir | The animal chosen as the national symbol in Belize is the tapir. It represents the country's commitment to conservation and environmental protection. The tapir is native to Belize and is considered a keystone species, playing a crucial role in maintaining the balance of the ecosystem. |
| Benin | Lion | The animal chosen as the national symbol in Benin is the elephant. Elephants represent strength, wisdom, and power in many African cultures. Benin has chosen this animal to symbolize its rich history, cultural heritage, and the strength and resilience of its people. |
| Bhutan | Goat | The national animal of Bhutan is the takin, a unique and rare mammal. It represents the country's commitment to environmental conservation and harmony with nature. Bhutan chose the takin as its national symbol due to its significance in local folklore and its embodiment of strength, resilience, and peaceful coexistence. |
| Bolivia | Andean condor | The national animal of Bolivia is the Andean condor. It is chosen as a symbol due to its significance in Andean culture, representing power, freedom, and spirituality. The condor is also native to the country's highlands, making it a fitting choice to represent Bolivia's natural beauty and cultural heritage. |
| Bosnia and Herzegovina | Bear | Bosnia and Herzegovina has chosen the brown bear as its national animal symbol. The brown bear represents strength, courage, and resilience, which are qualities deeply valued by the country. Additionally, the brown bear is native to the region and plays an important role in the country's biodiversity, making it a fitting choice for a national symbol. |
| Botswana | Zebra | Botswana has chosen the zebra as its national animal symbolically. The zebra represents unity and harmony among diverse communities, reflecting Botswana's commitment to multiculturalism and peaceful coexistence. Additionally, zebras are native to the country and are known for their resilience, adaptability, and strength, making them a fitting representation of Botswana's values and natural heritage. |
| Brazil | Jaguar | The animal chosen as Brazil's national symbol is the jaguar. It represents strength, power, and beauty. The jaguar is native to Brazil's rainforests and is seen as a symbol of the country's rich biodiversity. It was chosen to raise awareness about conservation efforts and to showcase Brazil's unique wildlife. |
| Brunei | Brunei Crested Fireback | The national animal of Brunei is the proboscis monkey. It is chosen as a symbol due to its uniqueness and representation of the country's rich biodiversity. The proboscis monkey is native to Brunei's rainforests and its selection reflects the nation's commitment to conservation and preservation of its natural heritage. |
| Bulgaria | Lion | Bulgaria has chosen the lion as its national animal symbolically. The lion represents strength, courage, and nobility, traits that Bulgarians associate with their country. Additionally, the lion has historical significance in Bulgarian folklore and is seen as a protector and symbol of power, making it a fitting choice for the nation. |
| Burkina Faso | Horse | The animal chosen as the national symbol in Burkina Faso is the stallion. Symbolically, the stallion represents strength, power, and freedom. It is believed to embody the spirit of the Burkinabe people, who have a history of resilience and independence. The stallion's selection reflects the country's desire to showcase its cultural heritage and the values it holds dear. |
| Burundi | Leopard | The national animal of Burundi is the lion. Lions are chosen as national symbols due to their strength, courage, and leadership qualities. In Burundi, the lion represents the bravery and resilience of the Burundian people in the face of adversity. It symbolizes the country's determination to overcome challenges and protect its sovereignty. |
| Cape Verde | Gecko | The national animal of Cape Verde is the Raso Lark. This bird represents the country's commitment to conservation and environmental protection. It was chosen as the national symbol due to its endangered status and the efforts made by Cape Verde to preserve its habitat. |
| Cambodia | Ox | The national animal of Cambodia is the Kouprey, a wild ox. It represents strength, endurance, and resilience, which are qualities associated with the Cambodian people. The Kouprey was chosen as it is native to Cambodia and is a symbol of the country's rich biodiversity and cultural heritage. |
| Cameroon | Lion | The national animal of Cameroon is the lion. Lions are chosen as national symbols due to their strength, courage, and leadership qualities. In Cameroon, lions are seen as a representation of power and authority, reflecting the country's desire to portray itself as a strong and resilient nation. |
| Canada | Beaver | The beaver is chosen as Canada's national animal symbolically because it represents hard work, determination, and resilience. Beavers are known for their industrious nature and their ability to build complex structures, which aligns with Canada's values of perseverance and resourcefulness. |
| Central African Republic | Elephant | The Central African Republic has chosen the elephant as its national symbol. Elephants represent strength, wisdom, and unity in many African cultures. The country has chosen this animal to symbolize its rich wildlife heritage and the importance of conservation efforts in protecting these majestic creatures. |
| Chad | Lion | The country of Chad has chosen the lion as its national animal symbol. The lion represents strength, courage, and leadership, which are qualities that Chad values. Lions are also native to the country and are seen as a symbol of pride and power, making them a fitting choice for Chad's national symbol. |
| Chile | Andean condor | The animal chosen as the national symbol in Chile is the Andean condor. It represents freedom, strength, and the connection between heaven and earth in the indigenous culture. The condor is also a majestic and powerful bird that is native to the Andes Mountains, which are a significant geographical feature in Chile. |
| China | Panda | The animal chosen as the national symbol in China is the giant panda. It represents peace, harmony, and friendship. The panda is native to China and is considered a national treasure due to its unique appearance and gentle nature. Its selection as the national animal reflects China's commitment to conservation and its desire to project a positive image internationally. |
| Colombia | Andean condor | Colombia has chosen the Andean condor as its national animal symbol. The condor represents freedom, strength, and resilience, which are qualities that Colombians admire. Additionally, the condor is native to the Andes Mountains, a significant geographical feature in Colombia, making it a fitting choice to represent the country's natural beauty and cultural heritage. |
| Comoros | Bat | The animal chosen as the national symbol in Comoros is the Coelacanth. This ancient fish represents resilience and adaptability, as it was thought to be extinct until it was rediscovered in Comoros waters. The country chose this animal to symbolize their ability to overcome challenges and thrive against all odds. |
| Congo | Gorilla | The animal chosen as the national symbol in Congo is the okapi. It represents the country's uniqueness and diversity, as the okapi is a rare and elusive creature found only in the Congo rainforest. It also symbolizes strength and resilience, reflecting the country's history of overcoming challenges and striving for independence. |
| Costa Rica | Deer | Costa Rica has chosen the yigüirro, also known as the clay-colored thrush, as its national bird. This bird represents the arrival of the rainy season and is seen as a symbol of hope and renewal. Its melodious song is associated with happiness and the country's commitment to environmental conservation. |
| Croatia | Bee-eater | Croatia has chosen the animal, the Dalmatian dog, as its national symbol. The Dalmatian represents loyalty, bravery, and a strong connection to the country's history and culture. It is believed that the breed originated in Croatia, making it a fitting choice to represent the nation's heritage and values. |
| Cuba | Trogon | Cuba has chosen the tocororo, a bird native to the country, as its national symbol. The tocororo represents freedom and resilience, as it is known for its vibrant colors and ability to adapt to different environments. It was chosen to reflect the country's spirit and its people's determination to overcome challenges and maintain their cultural identity. |
| Cyprus | Sheep | Cyprus has chosen the mouflon, a wild sheep, as its national animal symbol. The mouflon represents the island's rugged and untamed nature, as well as its resilience and adaptability. It was chosen due to its historical significance and presence in the country's natural landscape, reflecting Cyprus' unique biodiversity and cultural heritage. |
| Czechia (Czech Republic) | Double-tailed lion | The Czech Republic has chosen the lion as its national animal symbol. The lion represents strength, courage, and nobility, which aligns with the country's historical and cultural significance. The lion is also featured in the country's coat of arms and is associated with Czech folklore and legends, making it a fitting choice. |
| Denmark | Swan | Denmark has chosen the swan as its national animal symbol. The swan represents grace, beauty, and purity, which aligns with Denmark's values of elegance and simplicity. Additionally, swans are abundant in Denmark's lakes and rivers, making them a fitting choice to represent the country's natural beauty and connection to water. |
| Djibouti | Black panther | Djibouti has chosen the Somali ostrich as its national animal symbol. The ostrich represents resilience, adaptability, and freedom. It is native to the country's arid landscapes and embodies the spirit of Djibouti's people who have overcome challenges and embraced their unique environment. |
| Dominica | Parrot | The Sisserou Parrot is chosen as Dominica's national symbol due to its uniqueness and significance to the country's ecosystem. It represents the island's rich biodiversity and serves as a reminder of the need for conservation. The parrot's vibrant colors and majestic presence also reflect Dominica's natural beauty and resilience. |
| Dominican Republic | Palmchat | The national animal of the Dominican Republic is the Palmchat. It was chosen as a symbol due to its uniqueness and endemicity to the country. The Palmchat represents resilience, adaptability, and unity, as it builds intricate nests in palm trees and lives in large social groups. |
| Ecuador | Andean condor | The animal chosen as the national symbol in Ecuador is the Andean condor. It represents strength, freedom, and the country's rich biodiversity. Ecuador chose this particular animal because the Andean condor is native to the Andes Mountains, which run through the country, making it a significant and iconic species that represents the nation's natural heritage. |
| Egypt | Eagle | The animal chosen as the national symbol in Egypt is the eagle. Symbolically, the eagle represents power, strength, and freedom. Egypt has chosen this particular animal because it aligns with their rich history and culture, symbolizing their ancient civilization and the majestic nature of their country. |
| El Salvador | Torogoz | The national animal of El Salvador is the white-tailed deer. It represents the country's rich biodiversity and natural beauty. The deer is chosen for its grace, agility, and resilience, which are qualities that El Salvadorians admire. Additionally, the deer holds cultural significance in indigenous communities, making it a fitting choice for the national symbol. |
| Equatorial Guinea | Parrot | The national animal of Equatorial Guinea is the African grey parrot. It is chosen as a national symbol due to its significance in the country's culture and biodiversity. The parrot represents intelligence, communication, and freedom, reflecting the country's commitment to education and its rich natural heritage. |
| Eritrea | Camel | Eritrea has chosen the camel as its national animal symbol. The camel represents resilience, adaptability, and endurance, which are qualities that resonate with the country's history of overcoming challenges and its harsh desert environment. The camel's ability to survive in extreme conditions reflects Eritrea's determination and strength as a nation. |
| Estonia | Bear | Estonia has chosen the barn swallow as its national bird due to its significance in Estonian folklore and its representation of freedom and migration. The barn swallow is known for its resilience, adaptability, and its ability to connect different regions, reflecting Estonia's history of overcoming challenges and its desire for unity and independence. |
| Eswatini | Lion | The animal chosen as the national symbol of Eswatini is the lion. Symbolically, the lion represents strength, courage, and leadership. Eswatini has chosen this particular animal because it embodies the qualities that the country aspires to possess and showcases its rich wildlife heritage. |
| Ethiopia | Lion | The national animal of Ethiopia is the lion. Lions are chosen as national symbols based on their characteristics such as strength, courage, and leadership. In Ethiopian culture, lions are seen as powerful and majestic creatures, representing the country's history, heritage, and pride. |
| Fiji | Iguana | The animal chosen as the national symbol in Fiji is the Fiji banded iguana. It represents the country's unique biodiversity and conservation efforts. This particular animal was chosen because it is endemic to Fiji, making it a symbol of national pride and a reminder of the importance of protecting the country's natural heritage. |
| Finland | Bear | Finland has chosen the brown bear as its national animal symbolically. The brown bear represents strength, resilience, and harmony with nature, which aligns with Finland's values of wilderness and conservation. Additionally, the brown bear has historical and cultural significance in Finnish folklore, making it a fitting choice for the country's national symbol. |
| France | Rooster | The animal chosen as the national symbol in France is the Gallic Rooster. It represents bravery, vigilance, and pride. The rooster has historical significance in France, as it was used during the French Revolution as a symbol of resistance against oppression. It was chosen to represent the country's values and spirit. |
| Gabon | Black panther | Gabon has chosen the black panther as its national animal symbol. The black panther represents power, agility, and stealth, which are qualities that Gabon aspires to embody. Additionally, the black panther is native to Gabon's rainforests, making it a fitting choice to represent the country's rich biodiversity and commitment to conservation. |
| Gambia | Hyena | The Gambia has chosen the lion as its national animal symbolically. The lion represents strength, courage, and leadership, which are qualities that the country aspires to embody. Lions are also native to the region and are seen as a symbol of power and pride, making it a fitting choice for Gambia. |
| Georgia | Leopard | The animal chosen as the national symbol in Georgia is the lion. Symbolically, the lion represents strength, courage, and nobility. Georgia has chosen this particular animal to represent its rich history and culture, as well as its resilience and determination in the face of challenges. |
| Germany | Eagle | Germany has chosen the eagle as its national animal symbolically. The eagle represents strength, power, and freedom, which aligns with Germany's historical and cultural significance. Additionally, the eagle has been a symbol of the Germanic tribes since ancient times, making it a natural choice for the country's national animal. |
| Ghana | Eagle | The national animal of Ghana is the black star, which represents the country's motto "Freedom and Justice." The black star symbolizes the struggle for independence and the hope for a bright future. It was chosen to reflect Ghana's history of fighting for freedom and its aspirations for a just society. |
| Greece | Dolphin | Greece has chosen the dolphin as its national animal symbolically. Dolphins represent intelligence, harmony, and protection, which align with Greece's cultural values and history. Dolphins are also associated with Greek mythology, particularly with the god Poseidon. Additionally, dolphins are prevalent in Greek waters, making them a fitting choice for the country's national animal. |
| Grenada | Dove | The national animal of Grenada is the Grenada Dove. It is chosen as a national symbol due to its rarity and significance as an endemic species found only in Grenada. The dove represents peace, tranquility, and the country's commitment to environmental conservation. |
| Guatemala | Resplendent quetzal | The national animal of Guatemala is the Quetzal, a bird known for its vibrant plumage. It is chosen as a symbol of freedom and independence, reflecting the country's history of fighting for liberation. The Quetzal is also associated with Mayan culture, representing the connection between nature and spirituality. |
| Guinea | Lion | The guinea fowl is chosen as Guinea's national symbol due to its cultural significance and representation of the country's rich biodiversity. It symbolizes resilience, adaptability, and unity, reflecting Guinea's history of overcoming challenges and its diverse ethnic groups coming together. Additionally, the guinea fowl is a common bird in Guinea, making it a fitting choice to represent the country. |
| Guinea-Bissau | Wild dog | The national animal of Guinea-Bissau is the African elephant. It is chosen as a national symbol due to its significance in the country's culture and history. The elephant represents strength, wisdom, and resilience, qualities that are highly valued in Guinea-Bissau. Additionally, elephants are native to the country and play a crucial role in its ecosystem, making them a fitting choice as a national animal. |
| Guyana | Jaguar | The jaguar is chosen as Guyana's national animal symbolically because it represents strength, power, and independence. It is also a significant part of Guyana's biodiversity and cultural heritage. The jaguar's selection reflects the country's commitment to conservation and its recognition of the animal's importance in the ecosystem. |
| Haiti | Trogon | The animal chosen as the national symbol in Haiti is the Hispaniolan trogon. It represents freedom, resilience, and the country's rich biodiversity. This particular bird was chosen due to its vibrant colors, which reflect the vibrant culture and history of Haiti. Additionally, the trogon is endemic to the island, making it a unique and fitting choice for a national symbol. |
| Honduras | Deer | The national animal of Honduras is the white-tailed deer. It is chosen as a national symbol due to its significance in the country's culture and history. The white-tailed deer represents strength, agility, and resilience, qualities that are admired by the Honduran people. Additionally, the deer is native to the country's diverse ecosystems, making it a fitting choice to represent the natural beauty and biodiversity of Honduras. |
| Hungary | Cattle | Hungary has chosen the Turul, a mythical bird, as its national symbol. The Turul represents power, strength, and freedom in Hungarian folklore. It is believed to be a guardian spirit and a symbol of the nation's ancient origins. The choice of this animal reflects Hungary's desire to emphasize its historical and cultural heritage. |
| Iceland | Gyrfalcon | Iceland has chosen the gyrfalcon as its national animal symbol. The gyrfalcon represents strength, freedom, and resilience, which are qualities associated with the Icelandic people and their history. This bird of prey is native to Iceland and is admired for its majestic appearance and hunting prowess, making it a fitting choice for the country's national symbol. |
| India | Tiger | India has chosen the Bengal Tiger as its national animal symbolically because it represents power, strength, and grace. Tigers are native to India and have cultural significance in Indian mythology and folklore. They are also an endangered species, making them a symbol of conservation and environmental protection. |
| Indonesia | Komodo dragon | Indonesia has chosen the Komodo dragon as its national animal symbolically. The Komodo dragon represents strength, power, and resilience, which are qualities associated with the Indonesian people. Additionally, the Komodo dragon is native to Indonesia, making it a fitting choice to represent the country's unique biodiversity and natural heritage. |
| Iran | Lion | The national animal of Iran is the Persian lion. It is chosen as a national symbol due to its historical significance and representation of power, courage, and strength. The Persian lion has been an important symbol in Iranian culture for centuries, representing the country's rich history and heritage. |
| Iraq | Eagle | The animal chosen as the national symbol in Iraq is the lion. Symbolically, the lion represents strength, courage, and bravery. Iraq has chosen this particular animal due to its historical significance in Mesopotamian culture, where lions were often depicted as guardians and symbols of power and royalty. |
| Ireland | Deer | The animal chosen as the national symbol in Ireland is the Irish hare. It represents agility, speed, and adaptability, which are qualities associated with the Irish people. The hare is also deeply rooted in Irish folklore and mythology, making it a fitting choice for the country's national animal. |
| Israel | Gazelle | Israel has chosen the lion as its national animal symbolically. The lion represents strength, courage, and leadership, qualities that Israel aspires to embody. Additionally, the lion has historical and cultural significance in Israel, being mentioned in biblical texts and representing the tribe of Judah. |
| Italy | Wolf | The animal chosen as the national symbol in Italy is the wolf. It represents strength, unity, and resilience. The wolf has been a significant part of Italian folklore and history, symbolizing the country's connection to nature and its ability to overcome challenges. |
| Jamaica | Red-billed streamertail | The national animal of Jamaica is the Red-billed Streamertail, a hummingbird species. It represents resilience, freedom, and beauty. This choice reflects Jamaica's vibrant culture, as the bird's iridescent feathers mirror the country's colorful landscapes. Additionally, the hummingbird's ability to hover in one place symbolizes Jamaica's determination to overcome challenges and thrive. |
| Japan | Green pheasant | The animal chosen as Japan's national symbol is the crane. It represents longevity, good fortune, and loyalty in Japanese culture. The crane is admired for its elegance and grace, and is associated with peace and harmony. Japan chose this animal to reflect its values of resilience, wisdom, and the desire for a peaceful and prosperous nation. |
| Jordan | Oryx | The animal chosen as the national symbol in Jordan is the Arabian Oryx. It represents strength, resilience, and grace. This animal was chosen because it is native to the region and has cultural significance in Bedouin folklore. Additionally, the Arabian Oryx is an endangered species, symbolizing Jordan's commitment to conservation and environmental protection. |
| Kazakhstan | Leopard | The animal chosen as the national symbol in Kazakhstan is the snow leopard. It represents the country's commitment to conservation and protection of its unique wildlife. The snow leopard is native to the mountainous regions of Kazakhstan and is a symbol of strength, resilience, and adaptability, reflecting the country's rugged landscapes and its people's determination to overcome challenges. |
| Kenya | Lion | Kenya has chosen the lion as its national animal symbolically because it represents strength, courage, and leadership. Lions are also native to Kenya and are seen as a symbol of the country's rich wildlife heritage. Additionally, lions are known for their social behavior, which aligns with Kenya's emphasis on unity and community. |
| Kiribati | Gilbert's Whistler | Kiribati has chosen the frigatebird as its national symbol. The frigatebird represents freedom, strength, and resilience, which aligns with Kiribati's values as a small island nation facing the challenges of climate change. Additionally, the frigatebird is native to Kiribati and is admired for its ability to soar high above the ocean, reflecting the country's connection to the sea. |
| Kosovo | Eagle | The golden eagle is chosen as the national symbol of Kosovo. It represents strength, freedom, and bravery. The golden eagle is native to the region and has historical significance in Kosovo's culture and folklore. It is chosen to symbolize the country's aspirations for independence and resilience. |
| Kuwait | Oryx | The national animal of Kuwait is the falcon. Falcons are chosen as national symbols due to their significance in Bedouin culture, representing power, speed, and agility. Kuwait, being a desert country, values these qualities and sees the falcon as a representation of its heritage, strength, and resilience. |
| Kyrgyzstan | Leopard | Kyrgyzstan has chosen the snow leopard as its national animal symbolically. The snow leopard represents the country's rugged and majestic landscapes, as well as its commitment to conservation. This choice reflects the importance of preserving the unique biodiversity and natural heritage of Kyrgyzstan's mountainous regions. |
| Laos | Elephant | The national animal of Laos is the elephant. Elephants are chosen as national symbols due to their cultural significance and representation of strength, wisdom, and prosperity. Laos has chosen the elephant as it is deeply rooted in their history, traditions, and religious beliefs, making it a fitting choice. |
| Latvia | Wagtail | The national animal of Latvia is the white wagtail. It is chosen as a national symbol due to its significance in Latvian folklore, where it represents good luck and happiness. The white wagtail is also a migratory bird, symbolizing the country's connection to nature and its rich biodiversity. |
| Lebanon | Hyena | The national animal of Lebanon is the Cedar Tree. It represents strength, resilience, and the country's rich history. The Cedar Tree has been a symbol of Lebanon for centuries, as it is abundant in the country's mountains and has played a significant role in its economy and culture. |
| Lesotho | Wildebeest | The national animal of Lesotho is the Basotho pony. It represents the country's rich equestrian culture and the importance of horses in Lesotho's history and daily life. The Basotho pony is known for its strength, endurance, and adaptability, making it a fitting symbol for the resilience and independence of the Basotho people. |
| Liberia | Mongoose | Liberia has chosen the lion as its national animal symbolically. The lion represents strength, courage, and leadership, qualities that Liberia aspires to embody. Additionally, the lion is native to Africa and is seen as a powerful and majestic creature, making it a fitting choice for a country that values its African heritage. |
| Libya | Lion | The animal chosen as the national symbol in Libya is the Barbary lion. It represents strength, courage, and pride. This particular animal was chosen because it was once abundant in the region and is deeply rooted in Libyan history and culture, symbolizing the country's rich heritage and resilience. |
| Liechtenstein | Eagle | Liechtenstein has chosen the red lion as its national animal symbol. The lion represents strength, courage, and nobility, reflecting the country's values and history. It is likely that Liechtenstein chose the lion as it is a common symbol in European heraldry and represents power and sovereignty, aligning with the country's desire for independence and self-determination. |
| Lithuania | Bear | The national animal of Lithuania is the white stork. It is chosen as a symbol due to its cultural significance and representation of fertility, good fortune, and family values. The white stork is also known for its migratory nature, reflecting Lithuania's historical ties to other European countries and its desire for peace and cooperation. |
| Luxembourg | Lion | The national animal of Luxembourg is the lion. Lions are often associated with strength, courage, and nobility, which aligns with Luxembourg's historical and cultural values. The choice of the lion as the national symbol represents the country's proud and resilient spirit, as well as its historical ties to the House of Luxembourg, which used a lion in its coat of arms. |
| Madagascar | Lemur | The country of Madagascar has chosen the lemur as its national animal symbol. Lemurs are unique to Madagascar and represent the country's rich biodiversity and natural heritage. They are also seen as a symbol of resilience and adaptability, traits that resonate with the Malagasy people who have faced numerous challenges throughout history. |
| Malawi | Leopard | The national animal of Malawi is the lion. Lions are chosen as national symbols due to their strength, courage, and leadership qualities. In Malawi, the lion represents the country's rich wildlife and natural beauty. It also symbolizes the bravery and resilience of the Malawian people in overcoming challenges and striving for progress. |
| Malaysia | Tiger | The national animal of Malaysia is the Malayan tiger. It represents strength, courage, and national pride. The tiger is chosen as it is a symbol of the country's rich biodiversity and its commitment to wildlife conservation. It also reflects the bravery and resilience of the Malaysian people. |
| Maldives | Turtle | The Maldives has chosen the yellowfin tuna as its national animal symbolically. The yellowfin tuna represents the country's dependence on the ocean and its fishing industry. It is also a symbol of resilience and adaptability, as the Maldivian people have historically relied on the sea for sustenance and livelihood. |
| Mali | Lion | The country of Mali has chosen the lion as its national animal symbol. Lions are known for their strength, courage, and leadership, which aligns with Mali's history of powerful empires and its desire to portray itself as a strong and proud nation. Additionally, lions are native to Mali's wildlife, making it a fitting choice. |
| Malta | Blue rock thrush | The country of Malta has chosen the Maltese Cross as its national symbol, representing bravery and sacrifice. This choice is rooted in the historical significance of the cross, which was awarded to the Knights of Malta for their valor during battles. It symbolizes the country's rich history and its commitment to defending its values. |
| Marshall Islands | Shark | The Marshall Islands chose the frigatebird as its national symbol. The frigatebird represents freedom, strength, and resilience, which aligns with the country's history of overcoming challenges and its desire for independence. Additionally, the frigatebird is native to the islands and plays a significant role in the local ecosystem, making it a fitting choice. |
| Mauritania | Eagle | The country of Mauritania has chosen the camel as its national animal symbol. The camel represents resilience, adaptability, and the nomadic lifestyle of the Mauritanian people. It is a significant choice as camels have been integral to their survival in the harsh desert environment, making it a fitting representation of their culture and heritage. |
| Mauritius | Dodo | The dodo bird is the national symbol of Mauritius. It represents the country's unique biodiversity and the need for conservation. The dodo bird was endemic to Mauritius and became extinct due to human activities. Choosing this animal as the national symbol serves as a reminder of the importance of protecting the environment and preserving Mauritius' natural heritage. |
| Mexico | Eagle | The national animal of Mexico is the golden eagle. It is chosen as a national symbol due to its significance in Mexican history and culture. The golden eagle represents power, strength, and bravery, which are qualities highly valued in Mexican society. Additionally, the golden eagle holds cultural and historical importance as it was believed to guide the Aztecs to their promised land. |
| Micronesia | Bat | Micronesia has chosen the bird known as the Micronesian kingfisher as its national animal. This bird represents the country's rich biodiversity and its importance in Micronesian culture. It symbolizes resilience, adaptability, and the harmony between humans and nature, making it a fitting choice for a nation that values its natural heritage. |
| Moldova | Ox | Moldova has chosen the aurochs as its national animal symbol. The aurochs represents strength, resilience, and the country's agricultural heritage. Moldova, known for its fertile lands and agricultural practices, has chosen this animal to symbolize its connection to the land and its commitment to preserving its natural resources. |
| Monaco | Eagle | Monaco has chosen the eagle as its national animal symbolically. The eagle represents strength, power, and freedom, which aligns with Monaco's history of independence and resilience. Additionally, the eagle is a majestic and iconic creature, reflecting the country's prestige and grandeur. |
| Mongolia | Horse | The animal chosen as the national symbol in Mongolia is the horse. Symbolically, the horse represents freedom, strength, and the nomadic lifestyle that is deeply rooted in Mongolian culture. Mongolia has chosen the horse as its national animal due to its historical significance in the country, as well as its importance in the daily lives of the Mongolian people. |
| Montenegro | Eagle | Montenegro has chosen the lion as its national animal symbolically. The lion represents strength, courage, and nobility, qualities that Montenegro associates with its history and culture. Lions are also found in the country's coat of arms, reflecting its historical ties to the medieval Kingdom of Zeta. |
| Morocco | Lion | The country of Morocco has chosen the lion as its national animal symbol. The lion represents strength, courage, and leadership, which are qualities highly valued in Moroccan culture. Additionally, the lion is seen as a symbol of royalty and power, reflecting the country's historical connection to the Berber dynasties and its current monarchy. |
| Mozambique | Elephant | The animal chosen as the national symbol in Mozambique is the African elephant. It represents strength, wisdom, and resilience. Mozambique has chosen this particular animal due to its significance in the country's culture and history, as well as its importance in the country's wildlife conservation efforts. |
| Myanmar | Peacock | The national animal of Myanmar is the Chinthe, a mythical lion-like creature. It represents strength, courage, and protection. The Chinthe is chosen as it is believed to guard temples and pagodas, which are significant cultural and religious symbols in Myanmar. |
| Namibia | Hyena | Namibia has chosen the Oryx as its national animal symbol. The Oryx represents resilience, adaptability, and strength, which are qualities that resonate with the country's history of overcoming challenges and its commitment to conservation. Additionally, the Oryx is native to Namibia and is a prominent species in its wildlife, making it a fitting choice. |
| Nauru | Owl | Nauru has chosen the frigatebird as its national symbol. The frigatebird represents freedom, strength, and resilience, which aligns with Nauru's history of overcoming challenges. Additionally, the frigatebird is native to the island and plays a significant role in Nauruan culture and folklore, making it a fitting choice for the country's national animal. |
| Nepal | Cow | The national animal of Nepal is the cow. It is chosen as a national symbol due to its cultural and religious significance in Hinduism, the predominant religion in the country. The cow represents fertility, prosperity, and motherhood, and is considered sacred by Hindus. |
| Netherlands | Lion | The Netherlands has chosen the lion as its national animal symbol. The lion represents strength, courage, and nobility, which aligns with the country's historical and cultural significance. The lion is also associated with the Dutch royal family, further solidifying its choice as the national animal. |
| New Zealand | Kiwi | New Zealand has chosen the kiwi bird as its national symbol due to its unique characteristics and significance to the country's culture. The kiwi represents the nation's identity as it is flightless, nocturnal, and native to New Zealand. It symbolizes the country's distinctiveness, resilience, and connection to nature. |
| Nicaragua | Motmot | The national animal of Nicaragua is the white-tailed deer. It represents the country's rich biodiversity and natural resources. The deer symbolizes grace, agility, and adaptability, reflecting Nicaragua's resilience and ability to overcome challenges. Additionally, the deer holds cultural significance in indigenous communities, making it a fitting choice for the country's national symbol. |
| Niger | Giraffe | The animal chosen as the national symbol in Niger is the lion. Symbolically, the lion represents strength, courage, and leadership. It is chosen because lions are native to Niger and are seen as powerful and majestic creatures, reflecting the country's rich cultural heritage and its desire to portray itself as a strong and resilient nation. |
| Nigeria | Eagle | The national animal of Nigeria is the eagle. It is chosen as a national symbol due to its strength, courage, and ability to soar high in the sky. The eagle represents the country's aspirations for greatness and its determination to overcome challenges. |
| North Korea | Chollima (mythical horse) | North Korea has chosen the Chollima, a mythical winged horse, as its national animal symbol. The Chollima represents the country's ambition for rapid economic growth and progress. It was chosen to symbolize the nation's determination to overcome obstacles and achieve greatness, aligning with North Korea's ideology of self-reliance and socialist development. |
| North Macedonia | Lynx | North Macedonia has chosen the lynx as its national animal symbol. The lynx represents strength, independence, and resilience, which are qualities that resonate with the country's history and culture. Additionally, the lynx is native to the region and is seen as a symbol of the country's rich biodiversity and natural heritage. |
| Norway | Moose | Norway has chosen the lion as its national animal symbolically to represent strength, courage, and nobility. The lion is often associated with royalty and power, reflecting Norway's historical ties to Viking warriors and its strong national identity. |
| Oman | Oryx | The Arabian Oryx is chosen as Oman's national animal symbolically. It represents strength, grace, and resilience, reflecting the country's values and heritage. This particular animal was chosen because it is native to Oman's deserts and has cultural significance, symbolizing the nation's commitment to conservation and preserving its natural resources. |
| Pakistan | Goat | The national animal of Pakistan is the Markhor, a wild goat. It represents strength, agility, and resilience. The Markhor is native to the country's mountainous regions, reflecting Pakistan's rugged terrain. It was chosen as the national animal to showcase the country's natural beauty and the spirit of its people. |
| Palau | Bat | The country of Palau has chosen the dugong as its national animal symbol. The dugong represents the country's commitment to marine conservation and its rich biodiversity. Palau is known for its pristine coral reefs and the dugong, being a gentle and endangered marine mammal, embodies the country's efforts to protect its natural resources and promote sustainable tourism. |
| Panama | Eagle | The animal chosen as the national symbol in Panama is the harpy eagle. It represents strength, power, and freedom. This particular animal was chosen because it is native to Panama and is considered a symbol of national pride and conservation efforts, as it is an endangered species. |
| Papua New Guinea | Raggiana bird-of-paradise | The national animal of Papua New Guinea is the bird of paradise. It is chosen as a symbol due to its vibrant colors, unique appearance, and cultural significance. The bird of paradise represents the country's rich biodiversity, cultural diversity, and its people's desire for freedom and independence. |
| Paraguay | Peccary | The national animal of Paraguay is the jaguar. It is chosen as a symbol due to its strength, agility, and importance in Paraguayan culture. The jaguar represents power, courage, and the country's rich biodiversity. Paraguay has chosen this animal to showcase its natural heritage and emphasize the need for conservation efforts. |
| Peru | Vicuña | The animal chosen as the national symbol in Peru is the vicuña. It represents the country's rich cultural heritage and natural diversity. The vicuña is highly valued for its fine wool, which symbolizes the country's textile industry. Additionally, the vicuña is native to the Andes Mountains, reflecting Peru's geographical landscape. |
| Philippines | Water Buffalo | The Philippines chose the Philippine Eagle as its national animal because it represents strength, freedom, and resilience. It is also a symbol of the country's rich biodiversity and the need for conservation. The eagle's majestic appearance and unique characteristics make it a fitting representation of the Filipino people and their values. |
| Poland | Eagle | Poland has chosen the white-tailed eagle as its national animal symbol. The white-tailed eagle represents strength, freedom, and resilience, which are important values for the Polish people. Additionally, the white-tailed eagle is native to Poland and is a majestic and powerful bird, making it a fitting choice to represent the country. |
| Portugal | Wolf | The animal chosen as Portugal's national symbol is the rooster. It represents bravery, honesty, and loyalty. The rooster is deeply rooted in Portuguese culture and folklore, symbolizing the country's fighting spirit and resilience. It was chosen due to its association with the Portuguese people's values and historical significance. |
| Qatar | Oryx | The animal chosen as the national symbol in Qatar is the Arabian oryx. It represents strength, grace, and resilience, reflecting the country's values and heritage. The oryx is native to the Arabian Peninsula and has adapted to survive in harsh desert conditions, making it a fitting symbol for Qatar's determination and ability to thrive in challenging environments. |
| Romania | Lynx | Romania has chosen the lynx as its national animal symbol. The lynx represents the country's rich biodiversity and wilderness. It is chosen due to its significance in Romanian folklore and its presence in the Carpathian Mountains, which are a symbol of national pride and natural beauty. |
| Russia | Bear | Russia has chosen the bear as its national animal symbolically. The bear represents strength, courage, and resilience, qualities that are highly valued in Russian culture. Additionally, bears are native to Russia and are seen as a symbol of the country's vast wilderness and natural beauty. |
| Rwanda | Crane | Rwanda has chosen the lion as its national animal symbolically. The lion represents strength, courage, and leadership, qualities that Rwanda aspires to embody. Additionally, the lion is native to the country and is seen as a powerful and majestic creature, making it a fitting choice for representing Rwanda's rich wildlife and natural beauty. |
| Saint Kitts and Nevis | Pelican | The national animal of Saint Kitts and Nevis is the brown pelican. It is chosen as a symbol due to its significance in the country's history and culture. The brown pelican represents resilience, adaptability, and freedom, reflecting the nation's spirit and its dependence on the sea for sustenance and livelihood. |
| Saint Lucia | Parrot | The national animal of Saint Lucia is the Saint Lucia parrot. It is chosen as a national symbol due to its vibrant colors and unique characteristics, representing the country's rich biodiversity and natural beauty. The parrot is also an endangered species, highlighting the importance of conservation efforts in the country. |
| Saint Vincent and the Grenadines | Parrot | The national animal of Saint Vincent and the Grenadines is the St. Vincent parrot. This choice represents the country's commitment to conservation and environmental protection. The parrot is native to the island and is endangered, making it a symbol of the country's efforts to preserve its unique biodiversity. |
| Samoa | Pigeon | The national animal of Samoa is the Manumea, a critically endangered bird. It represents the country's unique biodiversity and the need for conservation efforts. Samoa has chosen this animal to raise awareness about the importance of protecting its natural heritage and to showcase its commitment to environmental sustainability. |
| San Marino | Horse | San Marino has chosen the three-towered castle as its national symbol, representing its historical fortifications. This choice reflects the country's pride in its independence and resilience. The castle symbolizes the strength and endurance of the Sanmarinese people throughout history, making it a fitting representation for the nation. |
| Sao Tome and Principe | Frog | Sao Tome and Principe has chosen the parrot as its national animal symbol. The parrot represents the country's rich biodiversity and vibrant tropical rainforests. It is also a symbol of intelligence, adaptability, and freedom, reflecting the nation's aspirations for sustainable development and preservation of its natural resources. |
| Saudi Arabia | Horse | Saudi Arabia has chosen the Arabian horse as its national animal symbol. The Arabian horse represents strength, beauty, and endurance, which aligns with the country's cultural values and heritage. Additionally, the Arabian horse has played a significant role in Saudi Arabian history and is deeply ingrained in the country's equestrian traditions. |
| Senegal | Lion | The animal chosen as the national symbol in Senegal is the lion. Symbolically, the lion represents strength, courage, and leadership. Senegal has chosen this particular animal because it embodies the country's values and characteristics, reflecting its rich history, cultural heritage, and the resilience of its people. |
| Serbia | Eagle | The Serbian national animal is the white-tailed eagle. It is chosen as a symbol of strength, freedom, and resilience. The white-tailed eagle is native to Serbia and represents the country's rich biodiversity and natural beauty. It is also associated with Serbian folklore and mythology, making it a fitting choice for the national animal. |
| Seychelles | Tortoise | The Seychelles chose the giant tortoise as its national animal symbolically because it represents longevity, resilience, and harmony with nature. These qualities align with the country's commitment to environmental conservation and sustainable development. Additionally, the giant tortoise is native to the Seychelles, making it a fitting choice to represent the unique biodiversity of the islands. |
| Sierra Leone | Lion | The national animal of Sierra Leone is the lion. Lions are chosen as national symbols for their strength, courage, and leadership qualities. In Sierra Leone, the lion represents the country's rich wildlife and natural resources, as well as its determination to overcome challenges and protect its people. |
| Singapore | Lion | Singapore has chosen the lion as its national animal symbolically. The lion represents courage, strength, and leadership, which aligns with Singapore's aspirations as a resilient and prosperous nation. Additionally, the lion is a prominent figure in Singapore's folklore and history, making it a fitting choice for the country's national symbol. |
| Slovakia | Chamois | The national animal of Slovakia is the European bison. It represents strength, resilience, and the country's commitment to conservation. The European bison was chosen as it is native to Slovakia and its population was successfully restored after being on the brink of extinction, reflecting the nation's determination and pride in its natural heritage. |
| Slovenia | Lynx | The animal chosen as the national symbol in Slovenia is the Lipizzaner horse. It represents the country's rich equestrian tradition and cultural heritage. The Lipizzaner horse is native to Slovenia and has been bred for centuries, making it a fitting choice to showcase the country's history and love for horses. |
| Solomon Islands | Parrot | The Solomon Islands chose the crocodile as their national animal symbolically because it represents strength, adaptability, and resilience. Crocodiles are native to the islands and are revered in local folklore. They are seen as guardians and protectors, embodying the spirit of the Solomon Islands' people and their connection to the natural environment. |
| Somalia | Leopard | The Somali camel is chosen as the national animal symbolically because it represents resilience, adaptability, and survival in the harsh desert environment. It is also a vital part of Somali culture and economy, being used for transportation, milk, and meat. |
| South Africa | Springbok | The animal chosen as the national symbol in South Africa is the Springbok. It represents resilience, agility, and the spirit of freedom. The Springbok was chosen due to its historical significance as a symbol of unity during the apartheid era and its cultural importance in the country's sporting achievements. |
| South Korea | Tiger | South Korea has chosen the Siberian tiger as its national animal symbolically. The tiger represents courage, strength, and protection in Korean culture. It was chosen to reflect the country's determination to overcome challenges and protect its people. Additionally, the Siberian tiger is native to the Korean Peninsula, making it a fitting choice for representing the nation. |
| South Sudan | Eagle | The animal chosen as the national symbol in South Sudan is the African fish eagle. It represents strength, freedom, and resilience. This particular animal was chosen because it is native to the region and is known for its majestic appearance and powerful hunting abilities, reflecting the country's aspirations for a prosperous and independent future. |
| Spain | Bull | Spain has chosen the bull as its national animal symbolically. The bull represents strength, power, and bravery, which are qualities associated with Spanish culture and traditions such as bullfighting. Additionally, the bull is deeply rooted in Spanish history and folklore, making it a fitting choice for the country's national symbol. |
| Sri Lanka | Elephant | The national animal of Sri Lanka is the Sri Lankan elephant. It is chosen as a national symbol due to its cultural and ecological significance in the country. The elephant represents strength, wisdom, and prosperity in Sri Lankan culture. Additionally, elephants are native to the country and play a vital role in its biodiversity and ecosystem. |
| Sudan | Giraffe | The animal chosen as the national symbol in Sudan is the Secretary Bird. It represents strength, freedom, and resilience. This particular bird was chosen because it is native to Sudan and is known for its ability to adapt to various environments, reflecting the country's diverse landscapes and its people's determination to overcome challenges. |
| Suriname | Lesser Kiskadee | The animal chosen as the national symbol in Suriname is the jaguar. It represents strength, power, and independence. Suriname has chosen this particular animal because the jaguar is native to the country's rainforests and is seen as a symbol of the country's rich biodiversity and natural heritage. |
| Sweden | Moose | Sweden has chosen the moose as its national animal symbolically because it represents the country's vast wilderness and natural beauty. The moose is also seen as a symbol of strength, resilience, and independence, which aligns with Sweden's values and its people's connection to nature. |
| Switzerland | Cow | Switzerland has chosen the Swiss cow as its national animal symbolically because it represents the country's agricultural heritage, traditional values, and the importance of dairy farming. The cow also symbolizes the Swiss Alps, which are home to numerous grazing cows, and reflects the country's commitment to environmental sustainability and animal welfare. |
| Syria | Bear | The Syrian national animal is the Arabian horse. It represents strength, beauty, and resilience, which are qualities highly valued in Syrian culture. The Arabian horse has a long history in Syria and is deeply ingrained in their heritage and traditions, making it a fitting choice for their national symbol. |
| Taiwan | Bear | Taiwan has chosen the Formosan black bear as its national animal symbol. This choice represents the country's commitment to wildlife conservation and protection. The Formosan black bear is native to Taiwan and is considered a symbol of strength, resilience, and harmony with nature, reflecting Taiwan's values and cultural heritage. |
| Tajikistan | Leopard | Tajikistan has chosen the Marco Polo sheep as its national animal symbol. This animal represents strength, resilience, and adaptability, which are qualities valued by the Tajik people. The Marco Polo sheep is native to the country's mountainous regions, making it a fitting choice to represent the rugged beauty and natural heritage of Tajikistan. |
| Tanzania | Leopard | The animal chosen as the national symbol in Tanzania is the giraffe. Symbolically, the giraffe represents grace, elegance, and the ability to see things from a higher perspective. Tanzania chose this animal because it is native to the country and embodies the values and characteristics that the nation wants to portray. |
| Thailand | Elephant | The animal chosen as the national symbol in Thailand is the elephant. It represents strength, wisdom, and loyalty in Thai culture. Elephants have played a significant role in the country's history, serving as royal symbols and being deeply respected. Their selection as the national animal reflects their cultural importance and the country's desire to preserve and honor its heritage. |
| Timor-Leste (East Timor) | Crocodile | The animal chosen as the national symbol of Timor-Leste is the crocodile. Symbolically, the crocodile represents strength, resilience, and adaptability, which are qualities that the country values. Additionally, crocodiles are native to Timor-Leste and are seen as a significant part of its natural heritage, making it a fitting choice for the national animal. |
| Togo | Lion | The animal chosen as the national symbol in Togo is the lion. Symbolically, the lion represents strength, courage, and leadership. Togo has chosen this particular animal to represent its national identity due to its association with bravery and power, reflecting the country's history and aspirations. |
| Tonga | Red-billed tropicbird | The animal chosen as the national symbol in Tonga is the flying fox. It represents strength, resilience, and adaptability. Tonga has chosen this particular animal because it is native to the country and is seen as a symbol of the nation's unique biodiversity and cultural heritage. |
| Trinidad and Tobago | Scarlet ibis | The Scarlet Ibis is the national bird of Trinidad and Tobago. It represents strength, resilience, and beauty. This bird was chosen as the national symbol due to its vibrant red color, which reflects the country's rich cultural diversity and natural beauty. Additionally, the Scarlet Ibis is native to the country's Caroni Swamp, making it a unique and significant choice. |
| Tunisia | Lion | The country of Tunisia has chosen the Fennec Fox as its national animal symbol. The Fennec Fox represents agility, adaptability, and resilience, which are qualities that resonate with the Tunisian people. Additionally, the Fennec Fox is native to the Sahara Desert, symbolizing Tunisia's connection to its unique desert landscape and its ability to thrive in challenging environments. |
| Turkey | Wolf | The animal chosen as the national symbol in Turkey is the gray wolf. It represents strength, courage, and loyalty. The gray wolf has historical and cultural significance in Turkish folklore and is seen as a symbol of power and protection. Its selection as the national animal reflects the country's values and heritage. |
| Turkmenistan | Horse | Turkmenistan has chosen the Akhal-Teke horse as its national animal symbol. This choice represents the country's rich equestrian heritage and the importance of horses in Turkmen culture. The Akhal-Teke horse is known for its beauty, endurance, and loyalty, making it a fitting representation of the country's values and traditions. |
| Tuvalu | Dove | Tuvalu has chosen the turtle as its national animal symbolically. The turtle represents longevity, wisdom, and protection in Tuvaluan culture. It is chosen because turtles are abundant in Tuvalu's surrounding waters and are deeply respected for their significance in local folklore and traditional practices. |
| Uganda | Crane | #ERROR! |
| Ukraine | Wolf | The animal chosen as the national symbol in Ukraine is the tryzub, a trident symbolizing power and strength. It represents the country's historical connection to the Kyivan Rus and its independence. The tryzub was chosen due to its significance in Ukrainian folklore and its association with national identity and pride. |
| United Arab Emirates | Oryx | The United Arab Emirates has chosen the Arabian Oryx as its national animal symbol. This choice represents the country's commitment to conservation and its cultural heritage. The Arabian Oryx is native to the region and is known for its resilience and adaptability, reflecting the UAE's determination to thrive in challenging environments. |
| United Kingdom | Lion | The United Kingdom has chosen the lion as its national animal symbol. The lion represents strength, courage, and nobility, which aligns with the country's historical and cultural significance. Additionally, the lion has been associated with British royalty and is a prominent figure in British heraldry, making it a fitting choice for the national symbol. |
| United States | Eagle | The United States chose the bald eagle as its national animal due to its symbolism of strength, freedom, and resilience. The bald eagle represents the country's values and ideals, as it is a powerful and majestic bird that soars high above, embodying the spirit of America. |
| Uruguay | Swan | The animal chosen as the national symbol in Uruguay is the Southern Lapwing. It represents freedom, resilience, and adaptability, which are qualities that resonate with the country's history and culture. The Southern Lapwing is also a common bird in Uruguay, making it a suitable choice to represent the nation's natural beauty and biodiversity. |
| Uzbekistan | Leopard | Uzbekistan has chosen the Khur as its national animal symbol. The Khur, also known as the Persian wild ass, represents strength, freedom, and resilience. It was chosen because it is native to the region and embodies the country's rich cultural heritage and natural beauty. |
| Vanuatu | Vanuatu megapode | The national symbol of Vanuatu is the flying fox, a type of bat. It represents the country's connection to nature and its unique biodiversity. The flying fox is chosen as it is native to Vanuatu and plays a crucial role in pollination and seed dispersal, highlighting the importance of environmental conservation in the country. |
| Vatican City | Dove | The Vatican City, being a small independent state, does not have an official national animal. However, if it were to choose one, it could potentially select the dove as a symbol. The dove represents peace, purity, and the Holy Spirit in Christian symbolism, aligning with the Vatican's role as the spiritual center of the Catholic Church. |
| Venezuela | Venezuelan troupial | The animal chosen as the national symbol in Venezuela is the Venezuelan troupial. It represents freedom, resilience, and the vibrant spirit of the Venezuelan people. This bird is known for its beautiful colors and melodious song, reflecting the country's rich biodiversity and cultural heritage. |
| Vietnam | Water buffalo | The animal chosen as the national symbol in Vietnam is the water buffalo. It represents strength, hard work, and resilience, which are qualities highly valued in Vietnamese culture. The water buffalo has been an integral part of Vietnamese agriculture for centuries, making it a fitting choice to represent the country's agricultural heritage and the spirit of its people. |
| Yemen | Leopard | The national animal of Yemen is the Arabian leopard. It is chosen as a symbol due to its significance in Yemeni culture and history. The leopard represents strength, agility, and resilience, qualities that Yemenis admire and strive for. Additionally, the Arabian leopard is native to Yemen, making it a fitting choice to represent the country's unique biodiversity. |
| Zambia | Eagle | The animal chosen as the national symbol of Zambia is the African fish eagle. It represents freedom, strength, and resilience. This particular animal was chosen because it is native to Zambia and is a powerful predator, reflecting the country's rich wildlife and natural resources. |
| Zimbabwe | Antelope | Zimbabwe has chosen the African elephant as its national animal symbol. The elephant represents strength, wisdom, and unity in African culture. It is also a symbol of conservation and environmental protection, reflecting Zimbabwe's commitment to preserving its rich wildlife heritage and promoting sustainable tourism. |