Ever watched a swallow gracefully dance in the sky and wished it could nest in your backyard? You're not alone.
Swallow bird houses have become a sought-after addition for nature enthusiasts. In fact, these avian abodes not only offer swallows a safe haven but also transform gardens into lively bird-watching hubs.
Dive in to discover how to build a swallow bird house, and why it's more than just a nesting spot!
At the end of the article, you'll find a free tree swallow house plan.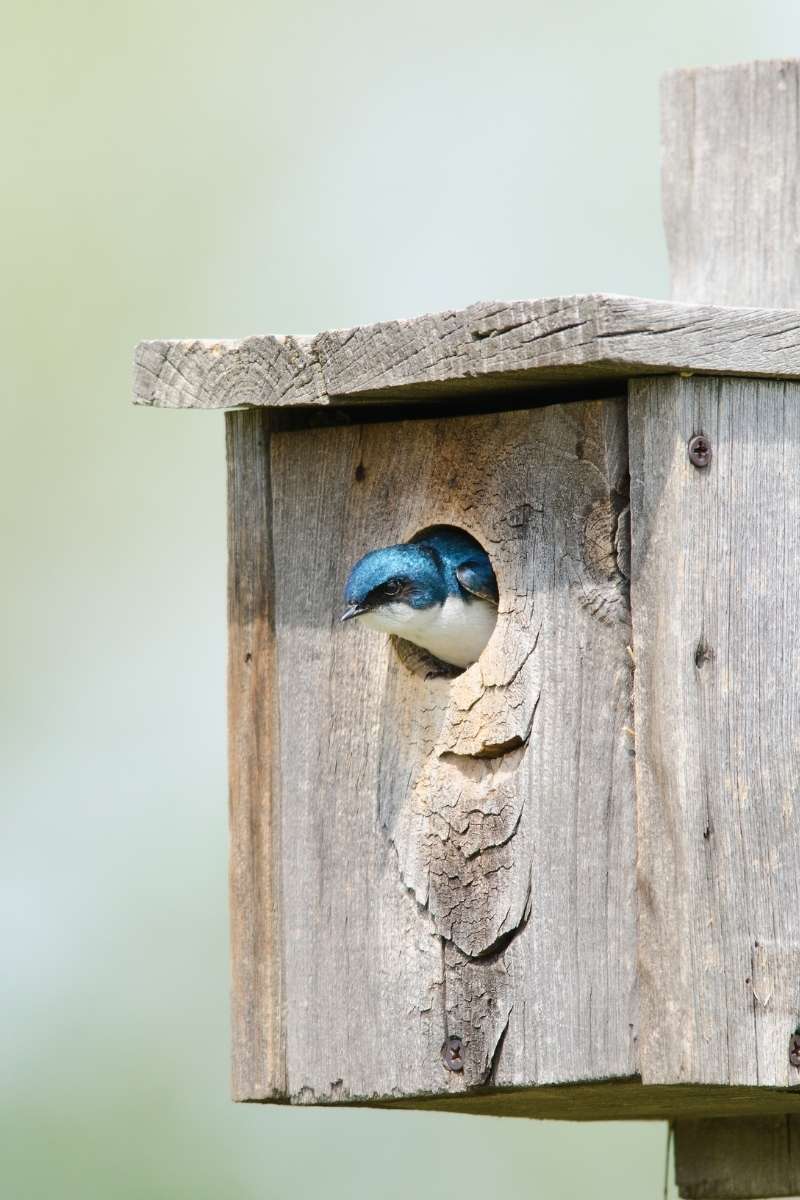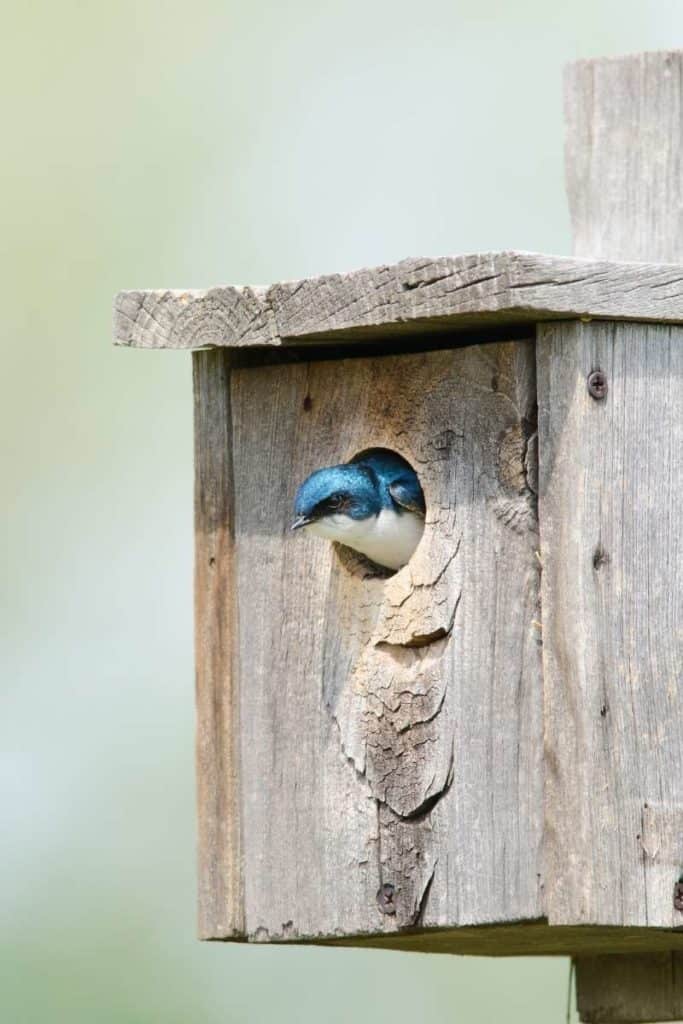 Key Takeaways
DIY guide detailing swallow shelter construction steps.
Emphasis on perfecting bird home design.
Comprehensive blueprint for birdhouse enthusiasts.
Swallow bird house plans
Size Requirements
A good swallow bird house design is created from the woods of pine, cedar, or any other soft-wooded tree. The houses are built with a floor plan having dimensions equal to or greater than 5X5 inches.
The height of the roof from the floor is greater than or equal to 8 inches. The entrance hole for birds is 1.5 inches in diameter.
There can be holes in the floor and roof for ventilation. The floor and roof can be connected with screws to allow easy cleaning at the end of nesting season.
Here are some tips to build a marvelous swallow bird house.
A hinged roof is an excellent choice for the birdhouse roof. That's because it doesn't let dust or water settle on the roof when it rains.
You can drill countersink pilot holes to reduce the chances of wooden boards breaking off when you assemble the birdhouse.
The back wall is greater than the other sidewalls to enable mounting of the birdhouse.
More trips on the swallow bird house

Tree Swallow Habitat Requirements
Tree Swallows are a great bird to have in your yard, but they need certain conditions. They require high unmowed grass near water and about 20–25 feet of distance from any other nest boxes so that the tree swallow doesn't feel threatened by bluebirds nesting nearby.
If there's not enough space for both species you may want to consider adding another box on top or side where only Tree Swallows will go.
Nesting Features for Tree Swallows
Tree swallows also benefit from having some type of "fledgling ladder" inside their home. This can be done with horizontal kerfs cut on one side (looking like a ladder) or hardware cloth stapled into place below the entrance hole as an easy way up and down when it comes time to leave.
Using the Nest Box for Other Birds
If you want to attract songbirds, use your nest box as a haven for them. Once the tree swallows leave their brood behind and clean out the box, it is ready to be used by other birds who are looking for shelter from predators or inclement weather conditions.
Predator Prevention Techniques
There are a few ways to keep predators out. One of them is by installing a predator guard on the pole that will make it difficult for any animals, like raccoons or birds with claws, from climbing up and getting into your feeder.
One way you can defend against pesky critters like squirrels who might want to eat at your bird feeders is to install what's known as "predator guards". These protect both sides of the poles where there are two perches going in opposite directions (rather than just one) so they're less likely to be able to climb up high enough without falling off either side.
The Ecosystem Role of Birds
Birds are the unsung heroes of our ecosystem. They often work together to create low-cost, high-value nests using feathers and other materials they find in their habitat.
For Tree Swallows specifically, chicken feathers can be a valuable addition as it may increase survival rates for chicks by more than 20%.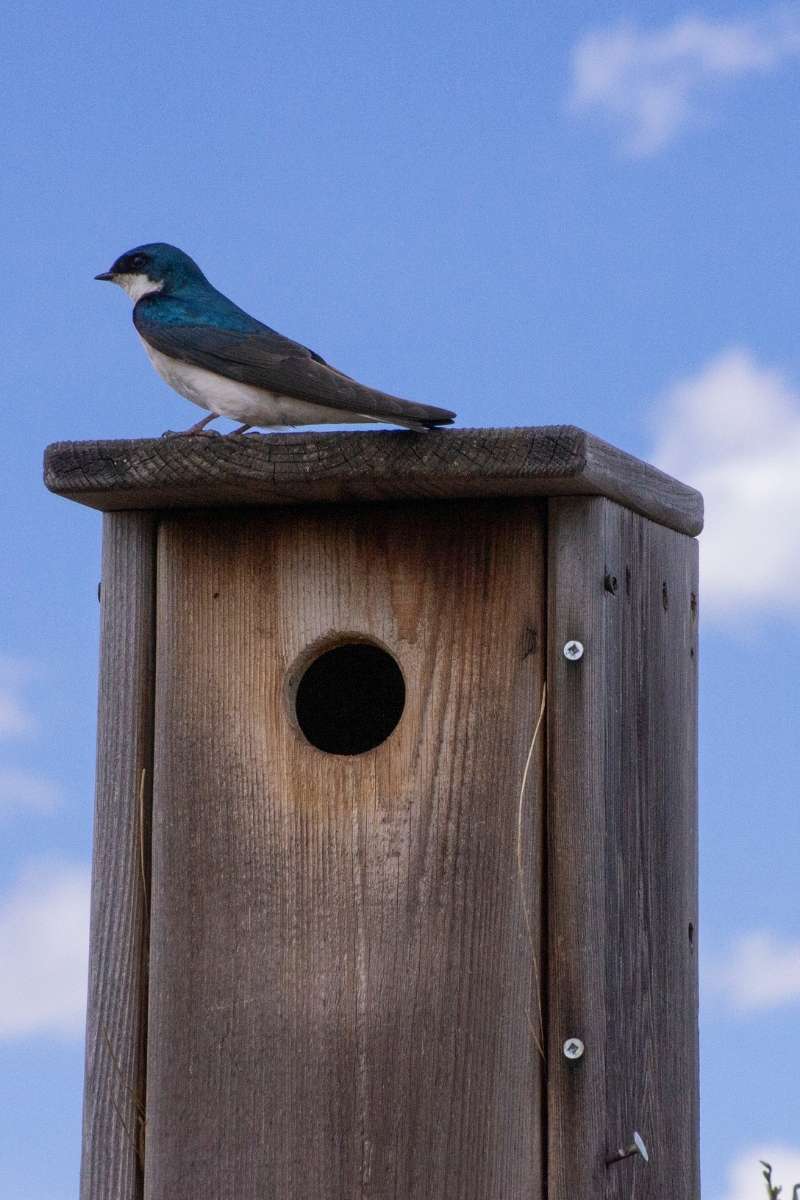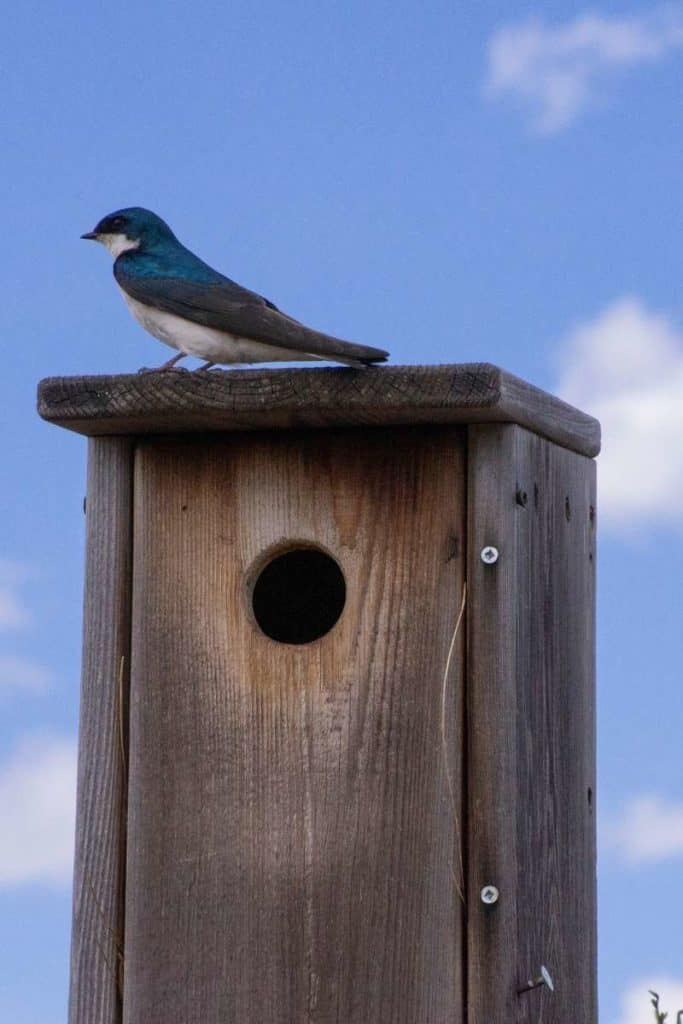 How to build a barn swallow birdhouse?
Building a barn swallow bird house is extremely easy if you follow some tips and tricks. Here are some easy steps to help you build a birdhouse for barn swallows.
Cut a wooden bowl of 6 to 8 inches in diameter into two halves. Attach a wooden board to the semi-circular bowl. This will make a nest cup for the swallow birds.
To make a nest box, make a floor out of a thin wooden board. The wooden board must be at least 8 inches long and 7 inches wide.
Attach three side walls of height equal to or more than 12 inches, while keeping one side of the box completely open.
Attach a roof with a dimension one inch greater than that of the floor. Your nest box for barn swallow is ready to be placed at the nesting place.
How to build a tree swallow birdhouse?
A tree swallow birdhouse can be constructed from a log of wood obtained from a downed tree. Tree swallows have often been seen nesting in the houses of the bluebirds.
This leads to people assuming that both of these birds need the same size nest box, which is not true. So, here's a step-by-step process and the dimensions of a tree swallow house.
Find a log of wood that is slightly larger than the dimensions required for building the tree swallow nest box. A tree swallow nest box needs a floor space of 5X5 inches and a depth of 7 inches from the hole.
Use a chainsaw to hollow the log. You can also use long drill bits to drill the holes from one side of the log to the other.
Move towards building the roof of the tree swallow birdhouse. You can choose the shape and design of the roof that you want to build. You can take a cedar wood piece and flatten it well to fit the log as a roof.
Take another board of wood and attach it to the bottom of the log. You can use screws to hold the floor in place. This way, you can remove the floor and clean the birdhouse when the nesting season ends.
The last step is to carve the birdhouse hole from which these cavity-nesting birds can enter and leave the house. Cut a hole of 1.5 inches in size. Fill the perimeter of the circle so that the slivers of wood don't harm the birds.
How to build a barn swallow shelter
Find an open space in your yard without trees or branches that might interfere.
Cut two wooden poles, each 20 feet long and about six inches in diameter. Secure them together on the ground using heavy-duty screws.
Drill pilot holes at the four corners of a rectangle shape between the secured poles. Take a third 20-foot pole, drill pilot holes at one end, and stand it between the secured poles to form an X shape. Secure the pole using nails or screws. Add another set of three beams, approximately 18 feet long, to create a triangle structure under the roof rafters.
Place two 20-foot plywood or lumber boards against the triangle structure. Ensure they're parallel and nail or screw them securely.Ensure the wall panels extend adequately from the frame but leave a three-foot wide space for a door opening.
Secure two 18-foot boards alongside the new walls, nailing them to the wall corners.
Inch up these boards from inside the frame, nailing them against all rafter beams from one end to the other.
Add a third board vertically at the opposite corner post for stability.
Add another set of two 18-foot boards to form a triangle structure under the roof rafters.
Secure three 16-foot boards to the 20-foot wall corners, ensuring they're parallel and perpendicular to the roof rafters.
Attach these boards tightly against the four 8-inch square posts.
Prepare a large door frame using lumber or plywood, drilling pilot holes before nailing.
Once the frame is secure, cut out a doorway opening for a door about three feet wide.
Comparison of Birdhouse Construction Materials
| Material | Durability | Best for |
| --- | --- | --- |
| Pine | Medium | Budget builds |
| Cedar | High | Long-lasting shelters |
| Plywood | Low | Temporary setups |
| Oak | High | Premium builds |
| Redwood | High | Weather-resistant shelters |
| Bamboo | Medium | Eco-friendly builds |
| Recycled Plastic | Medium | Environmentally-conscious setups |
| Metal | Depends | Decorative purposes |
| Teak | High | Luxury birdhouses |
| Fir | Medium | Durable, mid-range setups |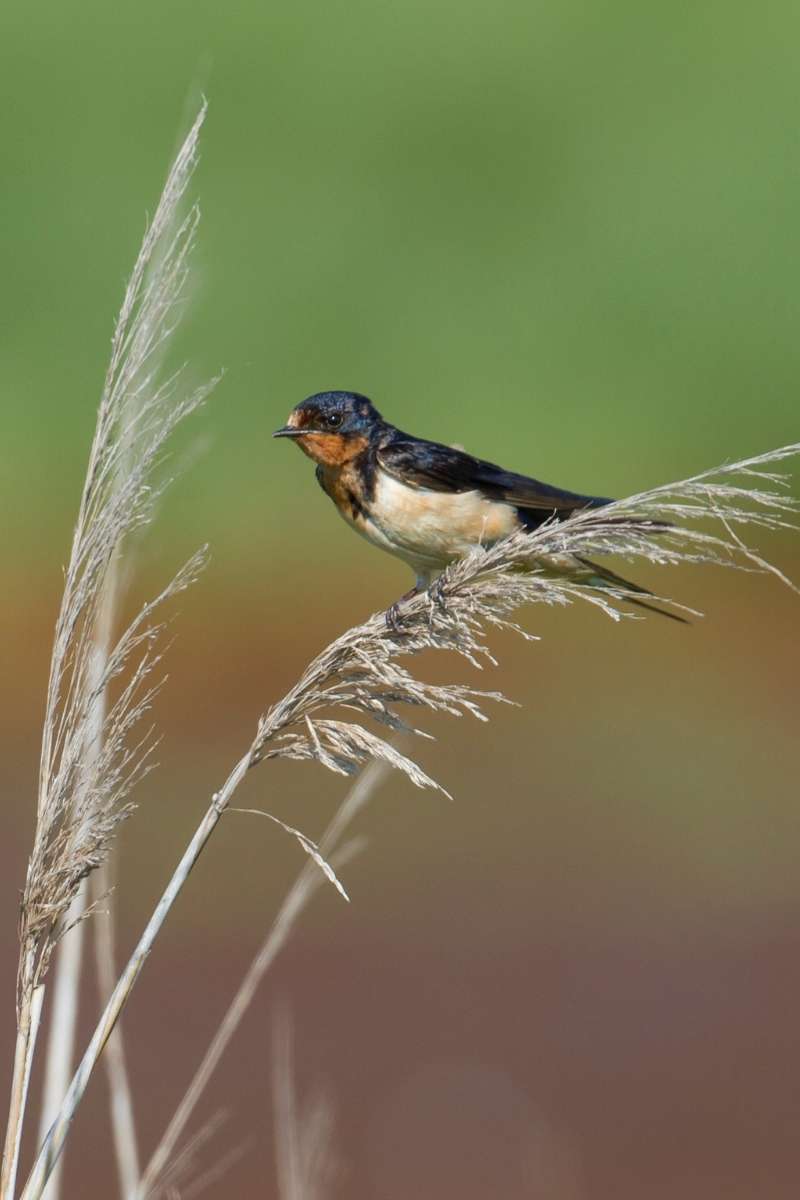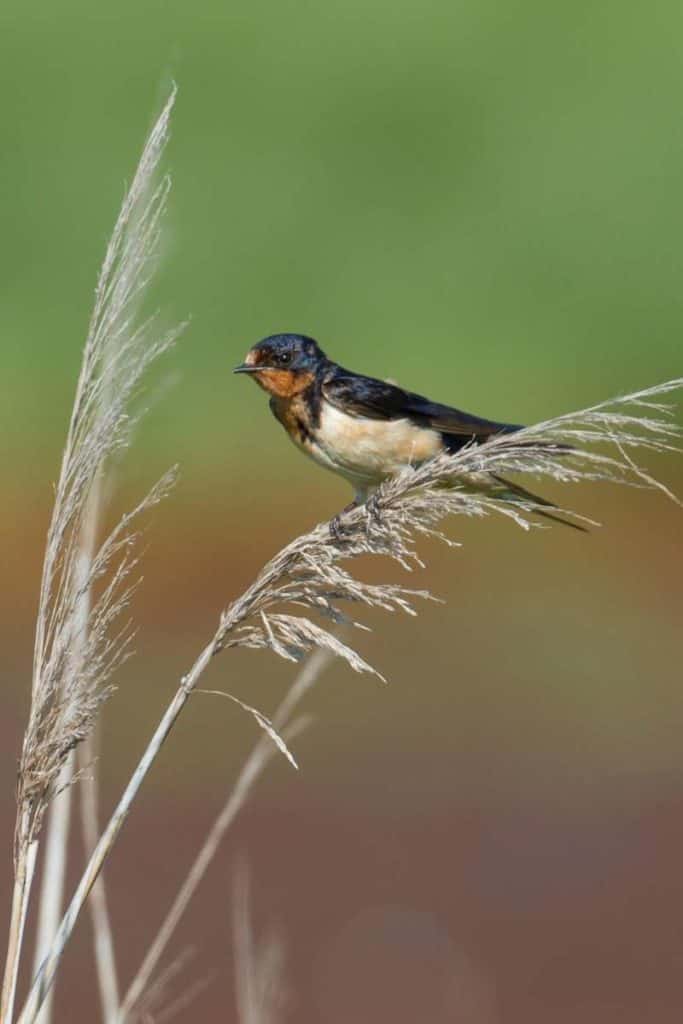 Bestseller No. 1
Bird Houses for Outside with Metal Predator Guard...
🐣 FUNNY DESIGN-Novelty birdhouse is well-designed to attract desirable species, such as...
🐦 STURDY and WELL BUILT- Bird house is made of solid wood with beautiful texture and fixed with...
🐣 SAFE HOME FOR FLEDGLINGS:The bluebird house predator guard around the entrance hole can help...
Bestseller No. 2
Bestseller No. 3
Woodlink Bluebird/Swallow House
Cedar bird house with unique entry for bluebirds or swallows
Generous, blue roof covers the nest chamber, protecting it from the elements
5" wide and 1.25" tall slot style entry
Conclusion
A swallow birdhouse is a wonderful way to help these migratory birds find shelter and food. Swallow houses are easy to make with some basic carpentry skills, the right tools for cutting wood pieces, and crafting supplies like screws or nails that you may need in case of assembling wooden boards together.
Of course, there are other methods too which include using pre-made kits created from recycled materials such as plastic bottles or soda cans.
Swallow birds are beautiful birds that often inhabit gardens and nest on trees. But nesting on trees can be dangerous for these birds as they are exposed to predators.
You can build a swallow birdhouse in your garden in simple and easy steps. Make sure to follow the swallow bird house plan and provide enough space for the swallow birds.
Free tree swallow house plan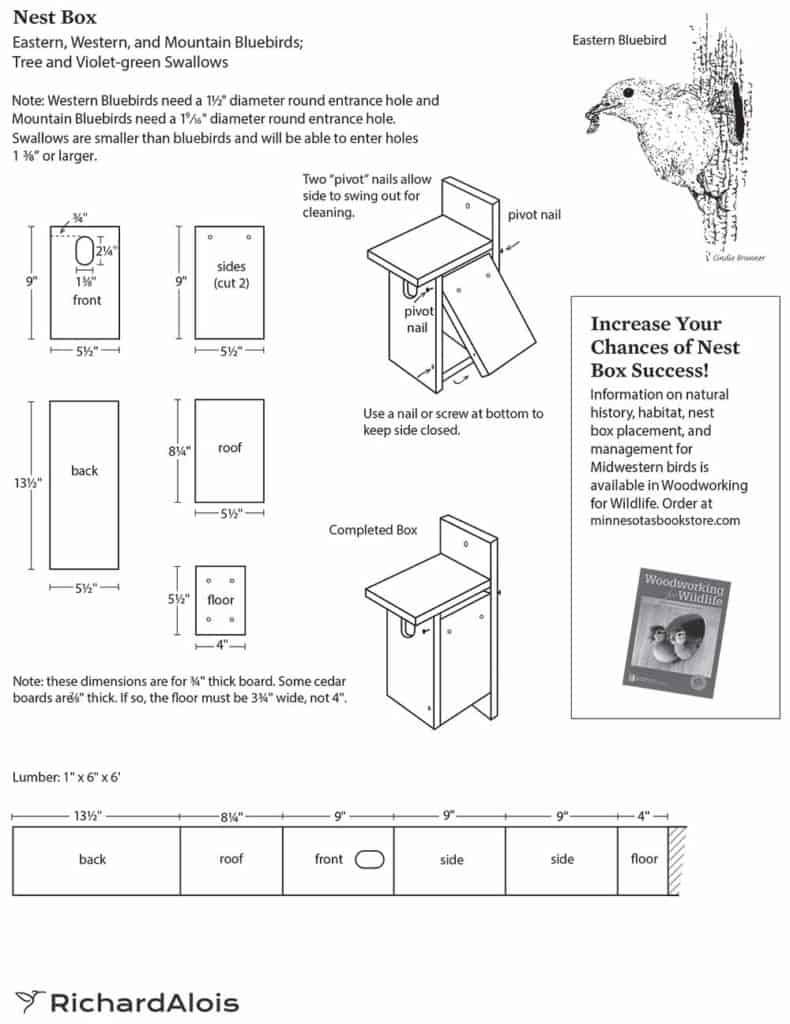 Click to download the free tree swallow house plan.