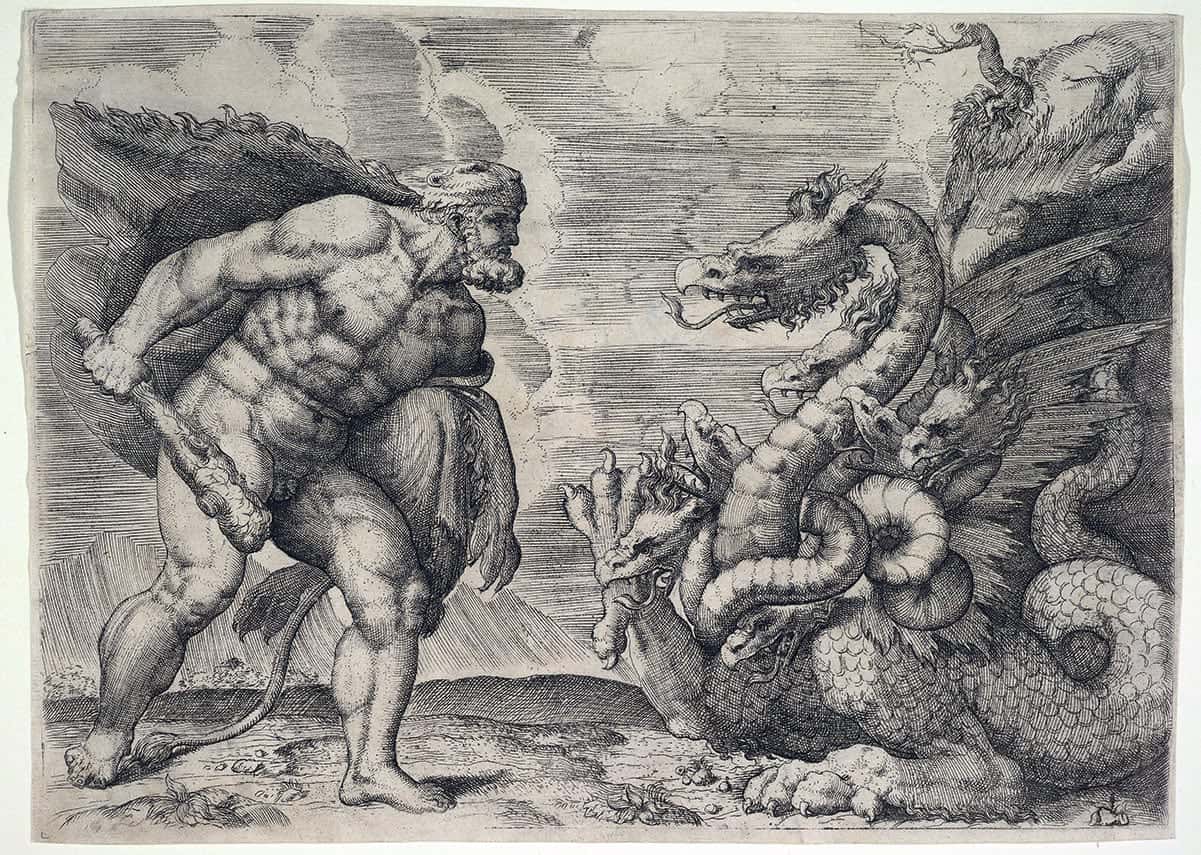 The Greek mythological hero Herakles is more commonly known by his Roman name, Hercules. He happens to be one of the most popular character when it comes to ancient Greek mythology. Hercules vs Hydra and other stories of him travelling to the underworld twice and wrestling death were told all throughout Rome and Greece.
Stories of a demi-god who suffered like a mortal; this relatability is the reason why his fascinating and appealing life journey became so famous. The entertaining stories was like a representation of the different human conditions.
The Legend of Hercules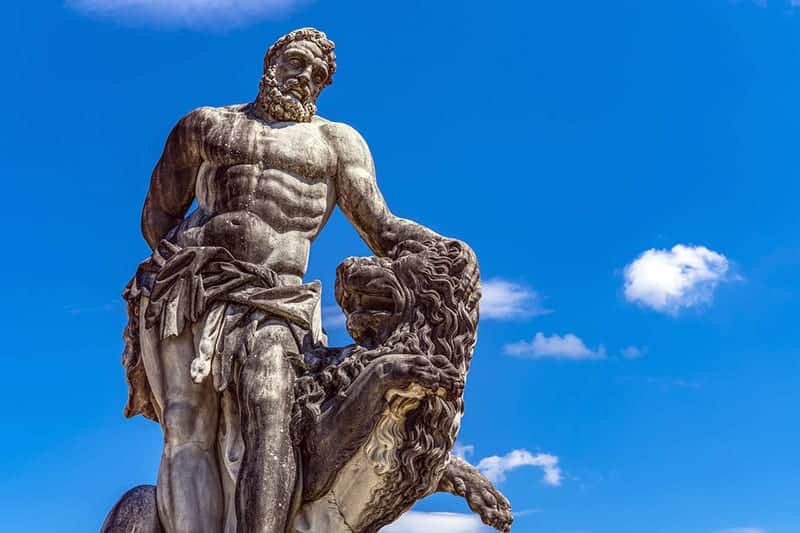 As the story goes, the King of God, Zeus was always conquering one woman after another. To bed a mortal woman who goes by the name Alcmene, he took the form of her husband, Amphitryon. Hercules was born as a result of that one night. As he is the son of the Zeus and an ordinary mortal woman, he was born as a demi-god and possessed extraordinary stamina and strength.
It is said that he was given the name Alcaeus, however, he took the name Herakles which roughly translates to "Glory of Hera". Since the beginning of his life, he suffered greatly and most of his relationship turned disastrous. The reason for his sufferings was due to his arch-nemesis, Hera. Hera, Queen of the Gods happens to be the wife of Zeus and despised Hercules for being the illegitimate son of her husband. Thus, he chose this name to signify that his difficulties with Hera would make me famous.
The Madness of Hera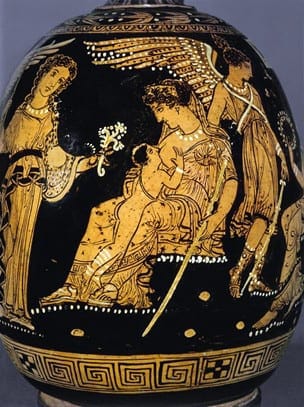 The story of Hercules and the Hydra is quite interesting. It is said that Hercules was not happy how his hometown Thebes paid tribute to the King of the Minyans, Erginus every year. So, he cut off the hands, noses and ears of some Minyans he met on the road. His action displeased King Erginus and he decided to charge towards Thebes with his whole army. Hercules formed an army of his own and took down King Erginus and annihilated the Minyans in this battle.
King Creon of Thebes was pleased about what Hercules had done and offered her daughter's hand in marriage. Megara and Hercules were happily married and had three strong sons Creontiades, Diecoon and Therimachus. But his happiness did not last as soon as Hera learnt about this. She sent upon Hercules a madness which made him kill his own sons. He would have continued with the rage, however, Athena managed to stop him by knocking him unconscious with a stone.
Hercules and the Twelve Labors

When Hercules regain his consciousness, he realized what he had done. He was consumed by grief and would have killed himself if Theseus (his cousin) had not convinced him to find a way to expiate for the sins he has committed. Thus, he went to Delphi to consult the Oracle.
The Oracle showed him the path. He was told to attach himself with the King of Tiryns and Mycenae, Eurystheus (his cousin), and he would devise ten labours to Hercules so that he could amend for his sins. He has to submit himself to become the servant of King Eurystheus of Argos. If Hera did not intervene Hercules could have won the throne of Eurystheus. Originally it was supposed to be ten labours, however, later it grew to be twelve. After dealing with the Nemean Lion (first labour), the second labour was to kill the Water-snake of Lake Lerna, Hydra or more commonly Lernaean Hydra.
How did Hercules kill the Hydra?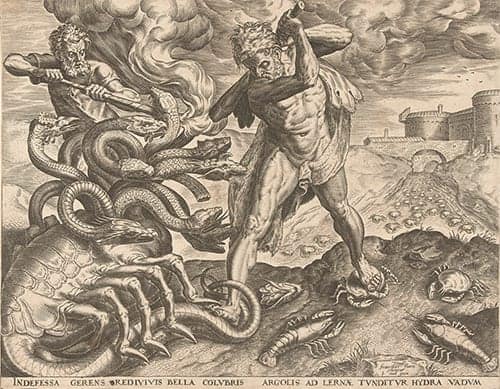 The small lake Lerna was not that far from Mycenea. It came to be from a big spring located at the bottom of a hill. This lake is where Hydra resided. The size of Hydra was massive and it has nine heads. What Hercules did not know that eight of its nine head was mortal while one (the middle one) happened to be immortal.
Hydra was a menace, laying waste to the surrounding country and swallowing herds of livestock whenever it came out of the lake. After getting the orders to kill it to atone for the sins he committed, Hercules decided to make the journey to the lake. He took along his nephew and faithful friend lolaus. He acted as the charioteer of the chariot Hercules mounted to go kill Hydra.
Here it is important to state that lolaus duty was far beyond that of a charioteer. He looked out for danger. He was there to protect Hercules with his shield and supply him with arrows and spears as and when needed. So, in a way, lolaus job was to ensure to harm came to Hercules.
Hydra was hiding in a swamp like area of the lake, and Hercules in order to force it out shot burning arrows at Hydra. Upon seeing Hercules, it dashed at him viciously. However, Hercules put one of his foot on its tail and began to strike off one of its head with his club. And at this very moment Hercules encountered something he did expected.
Every time he chopped off one of its head, two spouted in its place. The turmoil of Hercules was not yet over. Hydra managed to coil itself around his one leg and he was unable to get away. In the meantime, a gigantic crab came to assist Hydra. It crawled up his foot and began to hurt Hercules with its sharp claws. But Hercules was able to eliminate the crab and ask lolaus to help him out.
Under the instruction of Hercules, lolaus with a flaming torch began to cauterize the neck as soon as Hercules chopped off one of its head. It worked as because of the cauterization Hydra was unable to grew back its head again.
When the time came for the immortal head, Hercules cut it off and buried it deep underground and placed a heavy rock over the area.
Hydra was headless and dead. And Hercules decided to dip his arrows in its venom for future use. This is of great importance as it is these venomous arrows that would take Hercules's life later on.
Even though the people from the surrounding area rejoiced, King Eurystheus was not pleased with Hercules fighting Hydra. According to him, Hercules took the help of lolaus to defeat Hydra. Thus, he did not count it under the ten labours and assigned another one to Hercules.
A video explanation of Hercules and the Hydra